It's not really cool to mock someone over their missing cat, but when that person is the cruel, Putin-loving authoritarian leader of Chechnya, it's OK to rub it in a little bit.
Featured Image VIA
Ramzan Kadyrov – who is fiercely loyal to Putin and who has given human rights organisations plenty to talk about over the years – put out this plea to his 1.8 million Instagram followers last week: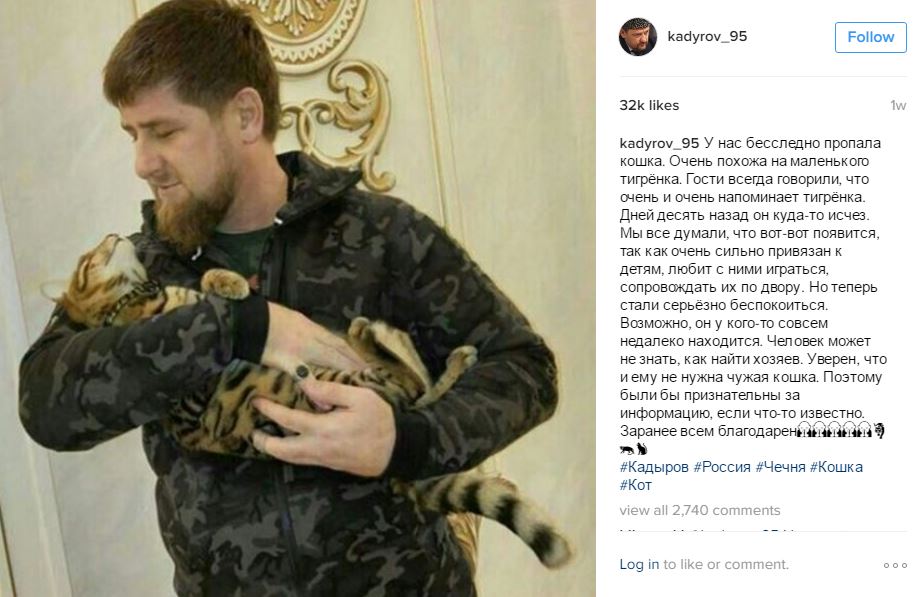 Our cat has vanished. Ten days ago, it disappeared. We all thought that it would turn up soon, since it is very much attached to the children, it loves to play with them… But now we are seriously worried. Perhaps it is staying with somebody in the neighbourhood. Therefore we would be grateful for the information if anybody knows anything. Thanks in advance.
The post racked up 32k likes (crazy) but failed to produce any leads on where his missing cat went.
In fact, most of the internet's reaction was less than helpful:
Surprisingly, Ramzan addressed the trolling in this Instagram post:
Which led to these genius Tweets from Human Rights East:
I guess the moral of the story is treat people like shit and don't expect any help when your kitty goes missing.
P.S. Hopefully didn't get stuck in a lampshade and electrocuted like this cat (don't worry, she survives).