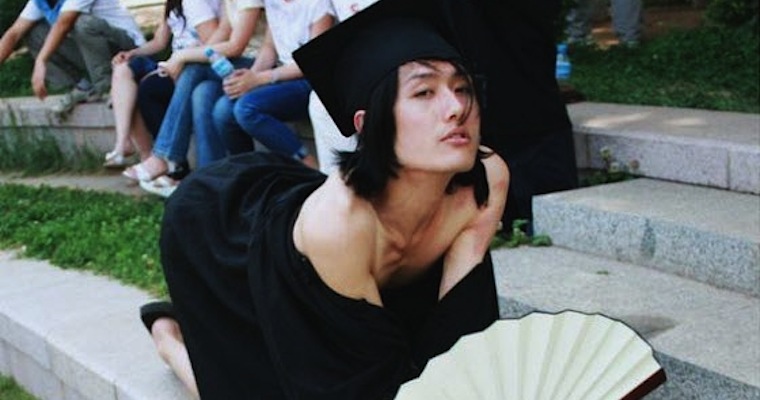 Happy August. So far, this year's summer has brought us a few new films that we were kind of excited about, some sport thing that's always on the telly and last week we even had a little bit of sunshine. Amongst the Batman spoilers and Olympic excitement, thousands of students across our green and pleasant land are seeing this summer in with a bit of good old fashioned graduation. Including myself. For those a little unsure of graduation etiquette, here are my my top three dos and don'ts for your special day. You can thank me later.
1. Get your tits out for the dads.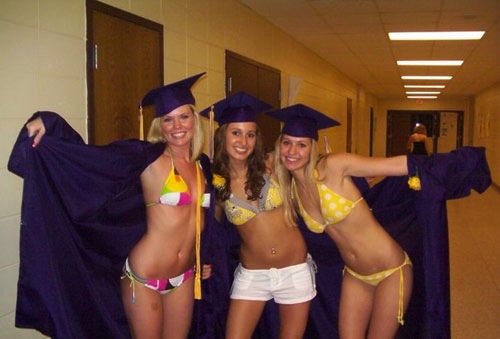 You got 'em from your mama, and what better way to show her and your dad your thanks than to get 'em out on your big day. Accessorize them with a sexy pout and a touch of cellulite, grab your dad and get snapping. After all, you're only going to graduate once, better do it right.
2. Fist bumps; all the cool kids are doing it.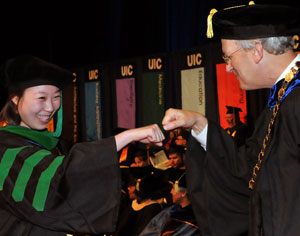 As you walk towards the stage, how should you feel? Worried that your robes are skew-whiff and your hat's about to fall off? Concerned about the state of your matted extensions? Like wearing your highest and most stripper-esque shoes wasn't appropriate or safe for the occasion? No, no, no. None of these things will matter, friends, as long as you've figured out a hilarious way to approach your university's chancellor. For example, as many of my fellow students approached our chancellor, award-winning children's writer Jacqueline Wilson, they ignored the fact that they looked like complete and utter tools and  earned the respect of the audience with a swift fist bump, sharp slap on the back or a simple sly five to the hand. And that is how it's done.
3. Definitely pretend to be a bat as much as possible.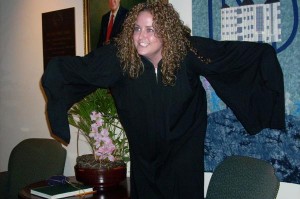 Unless you're a total weirdo, chances are you only have these robes for a few hours. If you haven't got your tits out for the dads and feel like a complete boob in your robes, I would recommend doing what I like to call "the bat" in as many pictures as possible. Sophisticated and chic, the bat pose will fill you with confidence. Just flap those enormous sleeves into the wind and scrunch up your face, job's a good'un.