There are plenty of things that would put even the strongest of marriages to the test but a wife carrying race probably isn't one of them.
Featured Image VIA
On April every year, married couples, friends and any number of assorted duos descend on Dorking for the annual UK Wife Carrying Race – an event with a history stretching back centuries.
Competitive wife carrying actually originated some 12 centuries ago, on June 8 793 AD, when Vikings rampaged into Lindisfarne, destroying the local monastery and carrying off any local women they could get their hands on.
The practice of wife carrying has continued, intermittently, in the years since but only returned to the UK after a near-900-year absence in 2008.
Thankfully the practice has evolved a little since then – everyone involved is a willing participant for starters.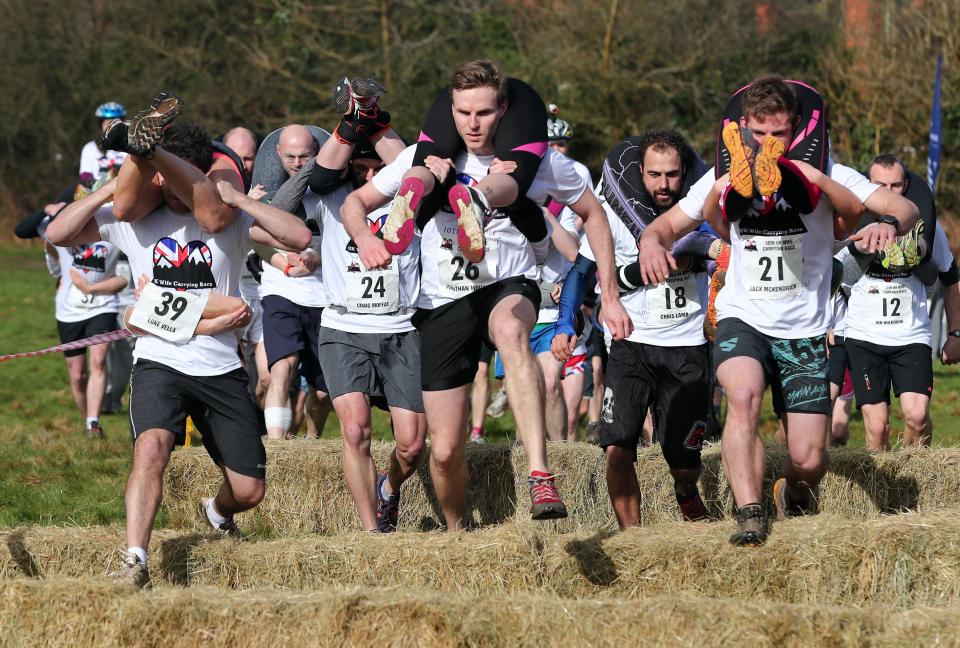 There are plenty of rules to the UK Wife Carrying Race though, and some pretty interesting prizes on offer (including one for the man with the heaviest wife – harsh).
Only the carrier has to enter the race. Participants can be male or female though and do not even have to be married. They must be at least 18 though and must wear a helmet.
Before the race, there is a weigh-in. Any "wives" found to weigh less than 50kg are required to compete the course wearing a rucksack filled with tins of baked beans to bring them up to the requirements of the race.
The race itself is simple enough. All entrants start at the same time and the first couple over the line is declared the winner.
There are penalties for anyone who drops their "wife" though; competitors must take three steps backwards before remounting and continuing the race.
There are obstacles (hay bales) and water hazards along the way, including a special "Splash Zone" manned by volunteers with water pistols.
Spanning some 380m, with a 15m ascent and 15m decent section included, the event is expected to attract anywhere between 30 and 50 competitors, with some even arriving from overseas to compete.
There are no limits to the holds competitors can adopt either with the bridal carry, piggy-back, shoulder-ride, fireman's carry (across the shoulders), Estonian Hold (wife hangs upside-down on man's back, legs crossed in front of the man's face) or Dorking Hold (the reverse Estonian) all optional.
The winner of the UK Wife Carrying Race takes home a barrel of Pilgrim Ale along with £250 that will go towards the lucky couple's expenses ahead of the World Wife Carrying Championships in Finland that July, where they will represent Britain. What an honour that would be.
To watch a cyclist completely destroy his race opponents by planking his bike, click HERE.