A couple months ago, a report over on Buzzfeed claimed that R. Kelly was operating something sort of weird underage sex cult in his mansions in Atlanta and Chicago.
Featured Image VIA
Kelly and his camp – and even the girls said to be victims of this cult – vehemently denied these claims, but more and more evidence keeps creeping out of the woodwork to suggest that Kelly is a bonafide pervert. The latest piece comes again from Buzzfeed and spotlights one of Kelly's victims, a woman named Jerhonda Pace.
Pace received a monetary payout to sign a non-disclosure agreement several years ago, but in the wake of these revelations, thought that it was worth breaking it to get her side of the story out and tell the world about what a weirdo R. Kelly is. The two first met at a party in 2009 and exchanged numbers and then embarked on a messed up sexual relationship when Pace was only 16 years old.
From the Buzzfeed report, here are the details: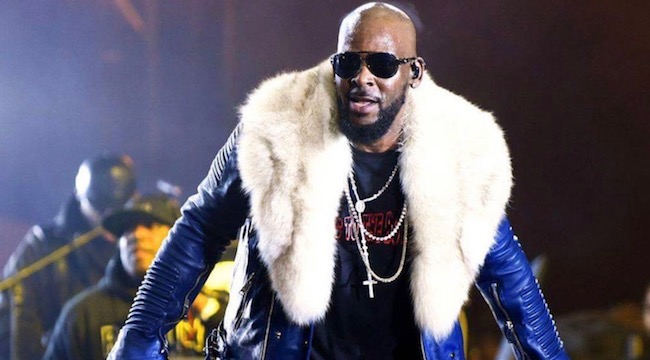 Over the next seven months, Pace says she had sex with Kelly repeatedly, a claim she would later repeat during her settlement process. Without asking her permission, Kelly filmed most of the encounters on his iPhone or a video camera on a tripod, Pace says and a settlement draft reiterates. 'I had to call him 'daddy,' and he would call me 'baby.' He wanted me to have two pigtails, and I had to go out and find little schoolgirl outfits.

Pace says that she started spending weekends with Kelly at his Olympia Fields home. While she was in the mansion, she says, she had to follow Kelly's 'rules,' which included dressing in baggy clothes, turning over her phone, and asking permission to shower, eat, go to the bathroom, and leave the property. If she broke the rules, she says, she was mentally and physically abused.

Despite the ramification for breaking her nondisclosure agreement, Pace says the decision is well worth it. 'If I can speak out and I can help them get out of that situation, that's what I will do,' she said said. 'I didn't have anybody to speak up on my behalf when I was going through what I was going through with him. He's brainwashed them really bad, and it kind of reminds me of Charles Manson.'
Ooof. That is some messed up stuff for a 16-year-old to be going through, or even a woman/man of any age for that matter.
R. Kelly has again moved to completely deny these allegations, but surely it can only be so long before he gets busted with so many people coming out with these outlandish stories? Here's hoping because he sounds like one twisted individual who shouldn't be allowed to get away with this kind of stuff.
For more R. Kelly, check him out walking out of an interview when he's asked about peeing on underage girls. Definitely the actions of an innocent man.