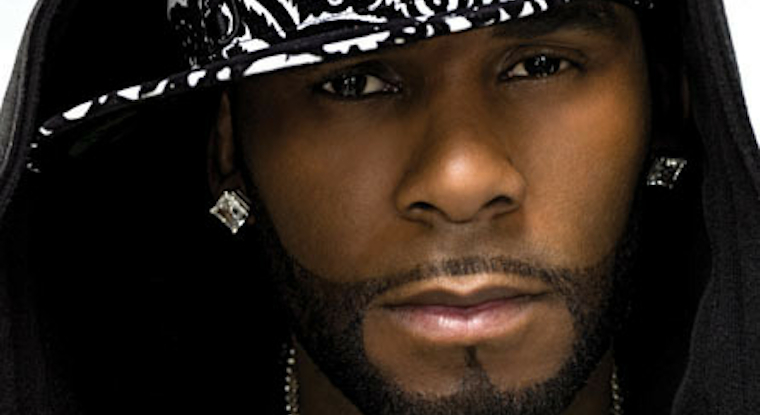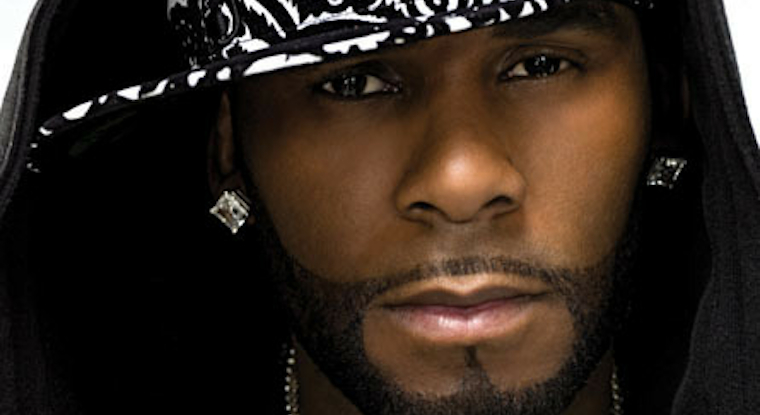 In an extraordinary show of arrogance and retardedness, the already questionable R. Kelly did little to enhance his reputation a couple of days ago by performing a concert that last exactly 75 seconds in Austin, Texas. R. Kelly was set to perform at a venue called 'The Mansion' – which it was later revealed to be a strip club nobody had ever heard of that had never hosted a gig/concert before, obviously – in honour of the Mother's Day weekend in the United States. Yeah, they have a different Mother's Day to use just to make everything super awkward and confusing if you have American Facebook friends because you're like 'WTF, it's Mother's Day??' when you see them updating their status about it, have a brief meltdown and then realise that it was 2 months ago over here and everything is cool.
Anyway, more relevant to this article, who's Mom wants to go and see R. Kelly on their special day? Oh wait, the event was in Austin, Texas that kind of explains it although I thought everyone in Texas was a redneck Republican, why the hell would they even let R. Kelly appear in their town, let alone perform especially for their mothers? Confusing. Tickers for the special performance ranged from $30,00 general admission (not bad for an R. Kelly concert yo, in fact pretty damn good) to $950.00 for a VIP table which included two bottles of Ciroc (not bad for an R.Kelly…wait that's an outrageous price, especially when he's only going to perform for 75 seconds). After keeping fans waiting for almost two hours, R. Kelly finally went on stage at 12:43am Here's a poster for the event, that gives a pretty big hint that all is not what it seems (apologies for the shitty quality, it was the only one I could find on the whole internet):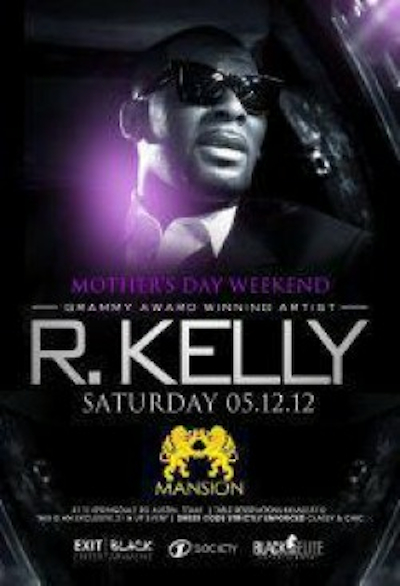 Here's a full run down of the night, lifted from the Austinist:
"Last night, I went to see R. Kelly at the Mansion, a strip club in North Austin, and it was one of the biggest scams I've ever experienced. Sure, there were moments leading up to the show where I wondered, "R. Kelly is playing at a strip club I've never heard of and general admission tickets are only 30 bucks? That's almost too good to be true," but I never expected it to be as worthless as it turned out. Being led into an alley by a hand drawn cardboard sign that promised a "Free R. Kelly concert" and then being beaten with a brick and robbed would perhaps have been more satisfying; at least you could file a police report.
Like most modern frauds, this story begins online with an Eventbrite page selling tickets for "An Intimate Night w/ R. Kelly (Mothers Day Weekend)." Tickets ranged from $30 for general admission all the way up an escalating price scale caste system of VIP and celebrity room statuses to the ultimate baller package of $950 for a super-duper-ultra-pimp-VIP bottle service table accommodating eight people. It was a little odd that the R. Kelly of "Space Jam" soundtrack fame-and-acclaim would be playing a remote strip club rather than say, the Frank Erwin Center, but it seemed plausible. Maybe people had finally lost interest in the plot line of "Trapped in the Closet" and Kells couldn't pack the house like he used to. I mean, if they're selling $950 tickets it's got to be a real R. Kelly concert, right?
My stomach dropped a little when we showed up at a swanky strip club near the junction of 183 and 290 and right past the entrance was a sign proclaiming "NO REFUNDS." My fellow concert goers and I joked that they were just going to play us some R. Kelly music videos, but once we saw the room we were too excited by the idea of seeing R. Kelly perform up close and personal to really believe this could all just be a rip off. R. Kelly's legend is so great that Aziz Ansari does a bit where he simply describes going to an R. Kelly concert. And here we were, about to watch the man perform on a stage five feet from us. A stage with stripper poles on it.
Doors opened at 9 p.m. and we arrived around 10. We camped out a few feet back from the lip of the stage and danced to a DJ playing the generic rap mix you'd hear at any inner city middle school prom. We were excited as fvck. Of course, as 10 became 10:30, then 11, then midnight, without R. Kelly live and in person wowing us with his R&B styles, that excitement diminished. From time to time, a hype man yelled at the crowd, "You people ready to party?! You don't seem like you're excited enough for R. Kelly to come out yet!"
Sometime after midnight, he starts yelling things along the lines of "R. Kelly is in the building!" We've been standing around for hours but we muster all the enthusiasm we can. The strip club staff begins to clear out the VIP room for R. Kelly. Wow, okay, now it's looking like R. Kelly actually will show! Finally, at 12:43 in the morning, R. Kelly and his posse take the stage to a medley of his hits. Kells grins at the cheering crowd, everyone loses their shit and starts taking photos with their phones, while R. Kelly just stands there smoking a cigar. Then he walks over to the VIP area and touches more hands and stands there. He is not singing. This parade goes on for a worrisome amount of time.
Finally, he finds a mic and sings a very brief a capella ditty. This is followed by a lazy rendition of "Ignition (Remix)" sung over the album version with his vocals still on it. Then after he invites all the pretty ladies to the VIP section to party with him, he moves over there and sits down. It becomes very obvious that this is it; this is the R. Kelly "performance" we just waited hours for. A moment later, R. Kelly gets on the mic again and DEMANDS that pretty ladies come party with him in VIP or "he is going to be up out this bitch." Up out this bitch? But you just got IN this bitch, Mr. Kelly!
With the VIP area packed to the gills by a flood of ladies – so much for those exclusive hundred dollar tickets, I guess – my friends and I decided this was total bullshit and left. We didn't pay 30 fvcking dollars to party in the same room as R. Kelly's VIP section.
If you pay for an "intimate night" with R. Kelly and it takes place in a public venue, not in a hotel room with a tarp laid over the bed, do you have a right to expect a musical concert? I believe so. When I go to the zoo, I don't expect the tigers and polar bears to sing "Bump-n-Grind" for me. Thus, when I go see R. Kelly, a man who is famous for performing music, I don't expect him to stand there sleepily and have his photo taken. If you are a musician and the event does not specifically say "an appearance by" or "autograph signing" or "LIVE… and drunk and not performing, just sitting in VIP," I believe the audience has a right to expect an actual concert.
In the end however, what really bothers me is that R. Kelly is a musician supported by fans who stood by him AFTER HE PEED ON AN UNDERAGED GIRL. People that like R. Kelly's music know he peed on a girl and have forgiven him for it! And then how does he repay that loyalty? By tricking people into buying expensive tickets for a Mother's Day "concert," making them wait on their feet for over three hours, and then performing a sub-par karaoke at Beerland rendition of "Ignition (Remix)?" Happy Mother's Day, R. Kelly. I feel like I just got pissed on."
Harsh words from the Austinist there. I think to be fair though that people have been advertising appearances such as these at crappy nigth clubs/strip clubs by semi-famous people for years (I remember when i saw Soulja Boy at an Oceana in Nottingham and all he did was dance to his stupid song three times and then hook up with some sluts) and most people kinda get the idea that he's not actually going to perform all his hits and just kind of BE THERE so that people can do exactly what people were doing in this story – just hanging out in the same room with a famous person, which is pretty much the best gift a mother can ask for right?
So yeah, I kind of think that the person that wrote this is an idiot – like R. Kelly would ever perform in a strip club with a poster as dumb as the one used to advertise it. You dumb bruv? Here's a great video of the event with R. Kelly singing about two lines and then heading off to the VIP area whilst the house DJ calls him an asshole. It's got some pretty cool subtitles on it too, the guy who made it is obviously a bit of a joker.
[yframe url='http://www.youtube.com/watch?v=VYaeag2d9h4#!']