Michael Jackson died about 8 years ago and the official cause of his death is an overdose of the sedative propofol, but now people are claiming that he was actually murdered as the result of some kind of conspiracy.
Featured Image VIA
The first person to bring up this theory was his 19 year old daughter Paris, but now 34 year old German businessman Michael Jacobshagen has come forward with some letters which he claims reveal that Jackson feared people around him were trying to murder him. Jacobshagen was a long time friend of the King Of Pop apparently, although I got no idea how they ended up hanging out.
Jacobshagen was speaking to the Australian TV show Sunday Night on an episode that will air next month on the anniversary of Jacko's death. Here's what he said in a Facebook post: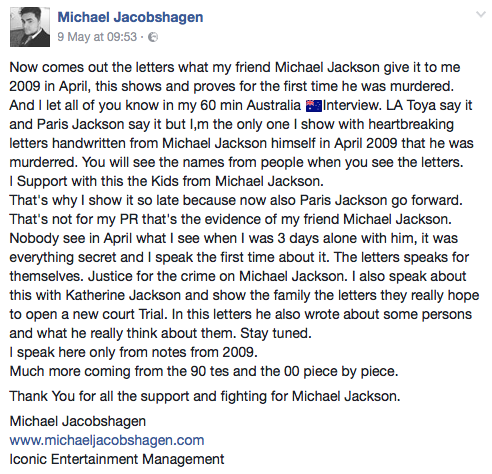 In the interview, Jacobshagen also stated that Michael said that 'they are going to murder me'. He's not clear about who 'they are', but he also said that Michael said the following about concert promoters AEG, who he was in rehearsal for before performing a residency at the O2 arena:
AEG. Make so much pressure to me… I'm scared about my life.
Seems pretty clear Jacobshagen thought that AEG were responsible for murdering Michael Jackson, probably because they thought he wasn't going to be able to perform at the shows that they booked and they would end up losing a tonne of money. If he's dead he can't perform so they get an insurance payout or something. That's a pretty sinister theory, but I suppose you wouldn't put anything past people these days would you.
I doubt we'll ever find out the truth but I'm still pretty eager to see what this dude is going to say on the TV show. Love a good conspiracy theory.
For more Michael Jackson, check him out beatboxing 'Beat It'. What an incredible talent.