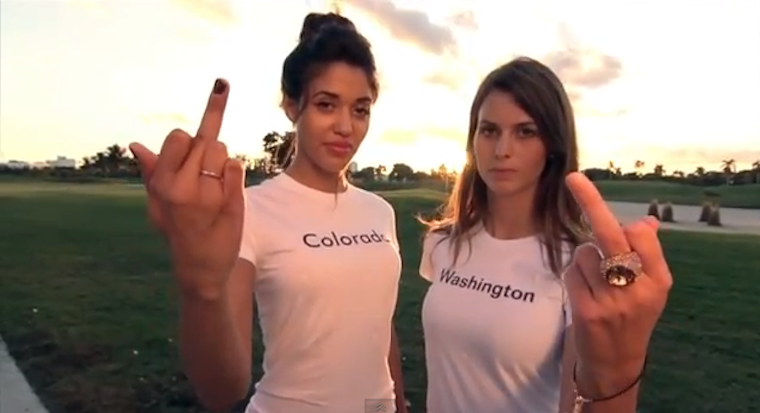 Macklemore's back up in the place biznitcheezzzz!
Y'all remember the Macklemore jam we dropped a few months ago with the dope ass sax hook and big subby kick drum pounding throughout, you know, the one all about shopping in thrift (vintage) stores that went massive internet viral styles? Well a comedian from The States has re-made the track with the same music, different lyrics and a very similar video, but instead of rapping about charity shops and finding a bargain, this guy raps about SMOKING WEED BABY.
☛ Listen Next: Macklemore – Thrift Shop Music Video
Now it's been 10 days since I've hit the bong (or had an alcoholic drink for that matter), and I reckon I'm gonna hold off the green until GTA V lands and then explain nicely to my GF that I won't be seeing her for a week. Then I'll order in a juicy OZ of the finest blueberry kush before planting my ass infront of my 60″ plasma with Dominos on speed dial while I cause some long overdue carnage in my favourite Rockstar sandbox game. (Can you tell I'm excited?)
☛ Read Next: Here's How To Roll A Blunt — With No Hands
Anyway, this video's super dope because it's all about weed and getting high and features some hot chicks dancing around to a dope ass beat and some funky dude playing the sax. What else could you ask for? Nothing. So go light up a bit fat biff for me and get your shoulder bob office chair moves onto this fine creation. Check it:
(Check out Macklemore making a cheeky appearance at the end – big respect.)
[yframe url='http://www.youtube.com/watch?v=Znpt_Umixcs']
☛ Watch Next: Who Wants To Win An Ounce?