Living in the UK, it's easy to forgot that in some parts of the world it's quite literally illegal to be gay. And even in certain regions where it's not specifically illegal, members of the LGBTQ+ community face discrimination on a daily basis. You just can't even imagine how that must feel.
Featured Image VIA
Turkey is one of those places – so much so that local police decided to use water cannons and rubber pellets on those who gathered at the centre of Istanbul for gay Pride… despite the same event having taken place peacefully the year before. Shocking.
Luckily karma was on hand to turn the cops' ugly actions into something beautiful, as one of the jets ended up creating a stunning rainbow across the square.
As Twitter user Ozhan Zurel wrote alongside the picture:
Police react with water cannons. Karma reacts with rainbow.
The bad side of this is that some people were reported to have been injured by police at the event, although that hasn't stopped the LGBTQ+ community and their allies to continue holding the Pride celebration year on year, despite an ongoing ban.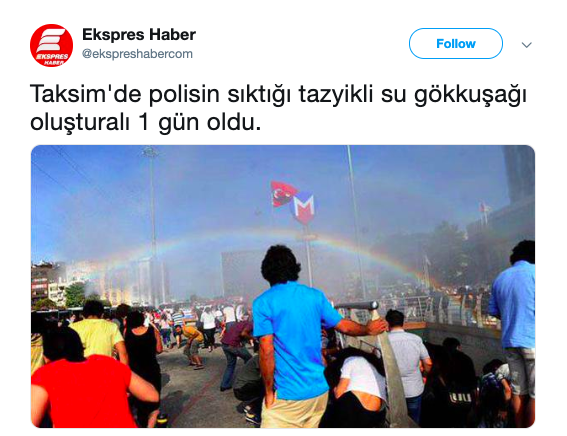 In another part of the country, it was announced that a planned student Pride march at the Middle East Technical University will not be allowed to take place by the university's rectorate Fotis Filippou.
Amnesty International's Campaigns Director for Europe had this to say about the announcement:
For the last eight years students at this university have marched through their campus to celebrate pride and demand equality and dignity for LGBTI people.

It is celebration of love which sends a message of hope to all those struggling to uphold fundamental rights in Turkey and beyond.

Rather than banning Pride events, the university should be supporting and protecting such marches and challenging homophobia and transphobia.
Damn straight – unfortunately it looks like there's still a way to go before gay and trans people are accepted in the country.
For the glorious time Anonymous hackers flooded ISIS's social media with gay porn, click HERE.