Everywhere you go, it seems like the people that were in charge of our childhood and are in charge of our children's childhood are desperately trying to ruin it by dropping in little Easter Eggs to every aspect of our lives back then – just check out these creepy cartoon conspiracy theories if you don't believe us.
The latest aggressors are Play Doh who have released a toy that unequivocally looks like a penis. There is just absolutely no way that you can deny that, I mean just take a look at the picture above. Right? No denying that whatsoever. Even more ironically, it comes as part of the Cake Doh set and is supposed to be a cake topper, pumping out icing onto the cake. I'm sure the similarities of that to a dick aren't lost on anyone reading this.
It turns out that I wasn't wrong in this realisation, as 1000s of moms – who obviously know what they're talking about when it comes to penises – flooded Play-Doh's Facebook page with complaints and pictures of the toy, stating what an outrage it was and how it could severely affect their child's development. Someone at Hasbro was desperately trying to delete them all, but in the end there were just too many and then a bunch of websites like ours started reporting on it and well, you can't stop the internet.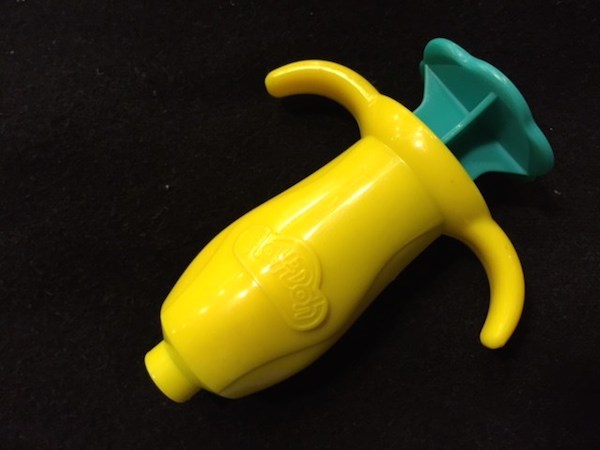 It turns out that the cake topper was first released around the start of December and there were a few complaints about it then too, which caused Play-Doh to change the shape of the cake topper to something slightly less obvious and more appropriate, which you can see above. I suppose it's slightly more appropriate at least. Unfortunately, the originals weren't recalled which led to this influx of complaints over Christmas. Doh! (Or Dil-Doh! I suppose).
Play Doh have kindly offered to replace all of the cake toppers with the new one – so I imagine they'll be replacing all of them that were ever manufactured. They're also hoping that they don't have to face any lawsuits regarding them in 20 years time ,when all these kids are grown up and blame the toys for their loss of innocence or whatever.