A British actor named Michael Enright – who has had bit part roles in Pirates Of The Caribbean, Knight & Day, CSI, Law & Order: LA and Agents Of SHIELD – has decided to give up his day job and head over to Syria in order to fight ISIS.
The 51 year old joined the Kurdish People's Protection Units and changed his name to Mustafa Michael Ali upon his arrival. He didn't tell any of his friends or family of his decision to head over there until he was already firmly entrenched over there as the knew they would try and stop him, but he had his heart set on going over there to help out.
Enright says he felt compelled to head over there and help because 'ISIS is a stain on humanity that needs to be completely wiped off the face of the Earth.' He saw the Kurdish forces as a better bet to stopping ISIS than some of the other groups out there, as they're seen as being more motivated and tenacious than the country's other two armies. They're also the major ally of the US in Iraq.
Here's what Enright had to say about it all: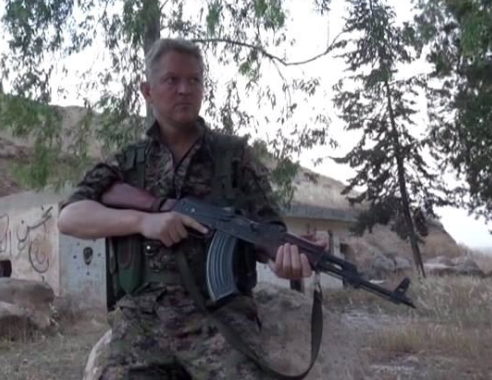 Image VIA
I wanted to join the fight against ISIS after the group released a series of execution videos in which they killed individuals from both Western and Arab countries. It sickened me.

I didn't come here to run, I came here to fight and if I have to die, then I die. I didn't come here to play games.

I hope to see my friends and family again. But, you know, we're in a war so I don't know if that will be in this life or the next.
Wow. Heavy stuff. What's even more incredible about his decision is that he doesn't seem to have had any military training at all throughout his life, and literally went over there anyway and seems to have learned pretty quickly from the shots of him moving around in the video below. This features an interview with him on an Arabic news channel (in English with Arabic subtitles when he's talking) which should hopefully prove that all this is true, despite how unbelievable it sounds.
To be honest it sounds almost as if he's been brainwashed – it's just he's on the 'right' side now so nobody is questioning it. It's gotta take a lot – or something more sinister – for a guy to drop everything and go over to Syria to fight ISIS, right? Or maybe he just got mad at them burning all the marijuana fields over there.
Featured Image VIA