If you're from the north, then it's pretty obvious that you're going to like gravy, mushy peas, pies and chip butties, so it makes sense that someone would combine these four delicacies into a sandwich that can only be described as 'the most Northern of all time'.
Images VIA 
The sandwich is called The Pie Face and it's available at The New Cake and Sandwich Shop in Manchester. Samantha Mitchell, who owns the shop with her husband Garry, explained how she created The Pie Face:
I started with a layer of chips, before adding a homemade steak pie and topping it with mushy peas and then finally finishing by throwing it all into a soft bap.

It was inspired by the Wigan kebab. I wanted the pie to be upside down to blend in with our different take on things.

Myself and my husband Garry have wanted to introduce a different sandwich called Sandwich of the Week, we change it weekly, promote it on Facebook and in-store and charge £3 for one.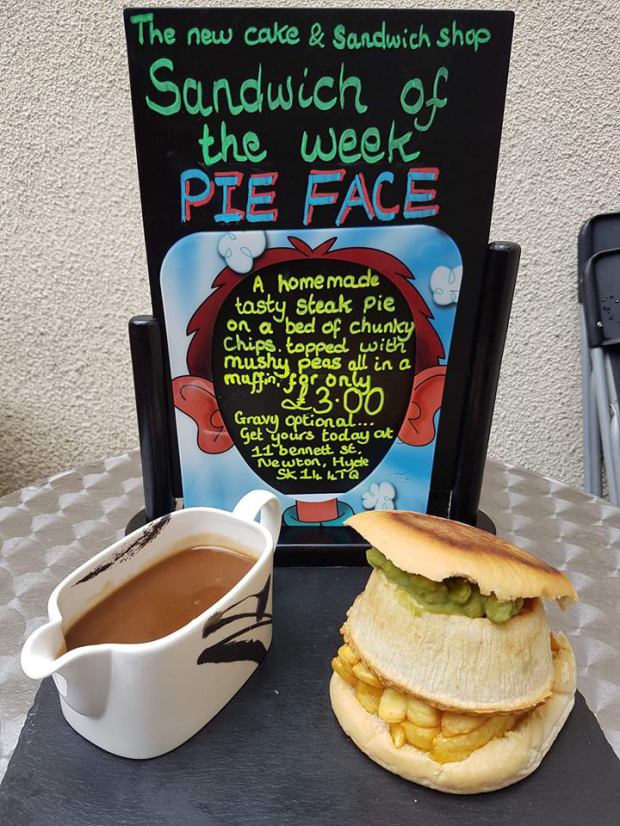 We do try to be different, sometimes rather strange, but our regulars love the wide variety.

We've had so much fantastic response from the Pie Face.

The name is thanks to my 3 little boys.

They help choose the names of some sandwiches of the weeks, including Captain Cods Eye and Mexican Wave.
Sounds like she's got a good little business going there, with The Pie Face being the crowning glory. So far that is, although it does feel a bit wasted on actual Northerners as they probably eat that stuff all the time.
Hopefully somebody further down south will see the appeal and start making them too. You can't really go wrong with that combo can you?
For more sandwiches, check out the nation's official favourite sandwich. Nice.