Rioters exploded in Frankfurt on Wednesday to protest the opening of the new $1.3 billion headquarters for the European Central Bank.
The protest was organised by the activist group Blockupy and was initially designed to be peaceful. Plans swiftly changed though when thousands of protesters inevitably began to clash with the German riot police that had assembled to protect the building. Things got ugly real quick.
As is the case with anything like this these days, thousands flocked to post their pictures of incidents they were involved in on Twitter and Instagram, and there are some really harrowing and shocking images in there. We've compiled an extensive gallery of them – which kind of looks like the kind of things you might see in America's most violent city – and you can see it by checking out the slideshow.
If you're interested in just why this has happened though, we can let you know all about that too – just check below the jump.
Images VIA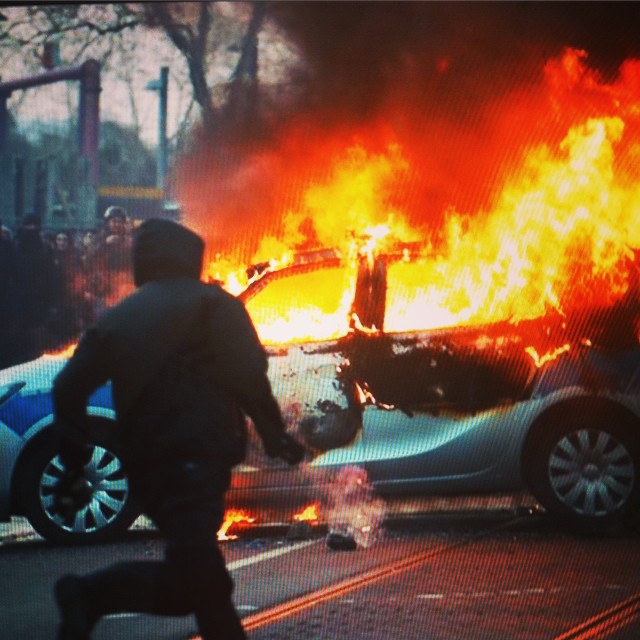 Many people blame the European Central Bank for essentially ruining their lives after providing loans and bailouts to countries such as Greece, Portugal and Ireland who could not afford to keep their countries afloat. These bailouts were only granted on the condition that the countries got their spending under control and started operating on a budget.
This means that they raised taxes and cut government spending – all to the supreme detriment of their inhabitants. Even though it is seven years since the start of the recession, unemployment is still at 11% in the Eurozone with the situation amongst young people trying to find work in Spain and Greece much worse.
These protests were a reaction to these policies and it seems like we're destined to see more before the situation resolves itself, if it ever does.
Click through the photos with the slideshow buttons below.