Even before the epic James Cameron movie, everybody knew the story of the Titanic but I don't think I've ever actually seen a picture of the iceberg that it crashed into until now.
Images VIA
The photograph that you can see above has emerged for auction at Henry Aldridge and Son and is expected to fetch at least £12,000 when it's put to the hammer. The photo is accompanied by a letter from Captain W. Wood, who was serving on the SS. Etonian, which was crossing the Atlantic a couple of days before the Titanic when he took a snap of this massive iceberg.
Crucially, he made a note of the co-ordinates which are almost the same as when the Titanic sank shortly afterwards, meaning that this is almost certainly the bastard iceberg that is responsible, especially as it also matches several eye witness descriptions. Auctioneer Andrew Aldridge said the following about the photo: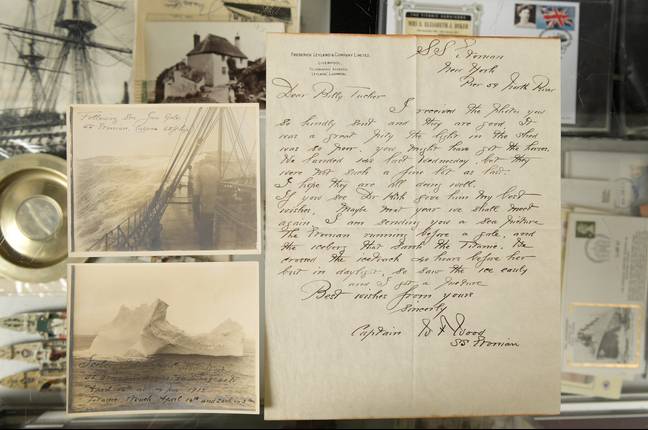 There were never any photographs taken on board the Titanic of the iceberg, only images of ones in the same area in the days before and after.

But Captain Wood's photograph must be the most likely of all of these images.

Fredrick Fleet was the lookout who first spotted the iceberg and he later drew a sketch of it, as did crew member and eye-witness Joseph Scarrott.

Their sketches both appear similar to the iceberg in this photo and have the same distinctive odd shape at the top.

But the letter from Captain Wood adds far more weight to this iceberg being the one. He seems unequivocal that this one was the iceberg that sank the Titanic.
It was pure luck that Captain Wood took the photo when he did.
Kinda weird that nobody has seen it until now, but I suppose that just makes it even more exciting? Not sure when it's going on sale if you want to try and pick it up, but hit up the auction house if you've got a bit of money spare.
For more of the same, check out some conspiracy theories claiming the Illuminati sank the Titanic. Of course they were involved.