We've all been fairly entertained with the beef that's come about between Stormzy and Wiley at the start of this year, with the two of them arguing about what is and isn't grime and then proceeding to drop diss tracks where they both threaten to fight and shag each other's mothers.
Featured Image VIA
It's like a grown up version of being in a school playground, only being viewed by millions of millions of people and I am there for it. And just like the school playground, someone older and wiser has decided to step in and break it up in the form of Peter Andre.
Peter had clearly been watching events unfold like the rest of us, but when he saw the par dissing each other's families he felt like he could no longer stand idly by, instead tweeting the following: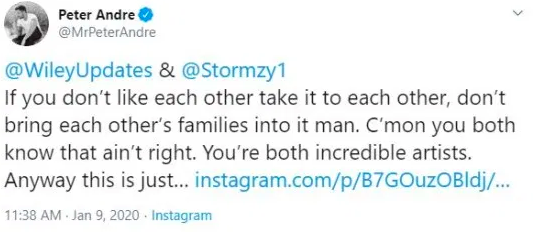 Lol. Sure that will probably make Stormzy and Wiley sit down and shut up and stop dissing each other won't it.
Or not. In reality – as I'm sure many of you probably would have predicted – Peter Andre was ruthlessly trolled by everyone on Twitter for trying to get involved and tagging the wrong accounts for Wiley and Stormzy (lol), before he deleted the posts and tried to pass it off with the lamest excuse of all time – it was 'pre coffee'.
Lol. Hate to see what other crazy shit Pete gets up to before he has his early morning 1145am cup of coffee. What time is this guy waking up everyday?
Anyway, both Wiley and Stormzy haven't bothered even commenting on Andre during all this which probably shows you what they think about his so called advice. Maybe they'll team up to write a diss track about him now – that would be a cute ending to the feud wouldn't it?
For more of the same, check out our analysis of Peter Andre's life from 2012. Brings back a lot of memories.