I don't think it's an exaggeration to say that the government advice during the pandemic has been very confusing and contradictory – sometimes from one sentence to the next – and this has only led to make the situation worse.
Featured Image VIA 
Tragically, it seems that UK sex health charity Terrence Higgins Trust have decided to follow on from this narrative when dispensing their own tips about having sex during the pandemic, advising that if you're enjoying a casual frolic with someone and aren't in a serious relationship then you should wear a mask – not the fun kind – and practice positions facing away from each other. Rimming and blow jobs also aren't recommended.
Whilst this can be a lot of fun as well, I think most people would at least wanna make out with their sexual partner and look at them as a part of the process, so the fact that they're even advising this comes across to me as completely naive and ridiculous. Do they think anyone is actually going to follow this protocol when they're in the throes of passion?
Here's exactly what Dr Michael Brady said: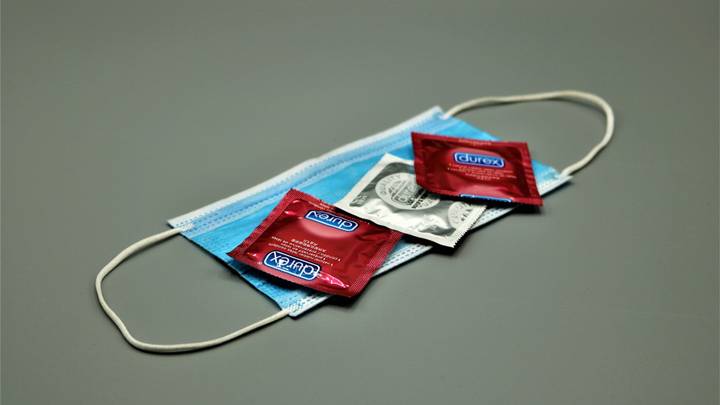 Sex is a very important part of life and, as the Covid-19 pandemic continues, we all need to find ways to balance our need for sex and intimacy with the risks of the spread of Covid-19.

As there are increasing concerns about a 'second wave' of Covid-19 your best sexual partner during the pandemic is you or someone you live with. Having said that, there are ways to make your sex as safe as possible.

Masturbation, using sex toys and phone or cam sex are the safest options as they can be done without being in close proximity to anyone else.

Just make sure that if you're having cam sex you don't share images that might identify you, unless you want to, and that you aren't pressured into anything that makes you feel uncomfortable.

Washing your hands for more than 20 seconds (or using hand sanitiser) before and after sex will also reduce the risk.
I mean other that washing your hands before and after sex I don't think any of that advice is going to be followed in the slightest. It's almost like the advice is being given out by someone that has never had sex before? Really weird to think that people will actually follow these rules, especially when it's likely to be happening in the privacy of their own home when it's very unlikely anyone is going to catch them and do anything about it. Just dumb to even issue it really when people aren't even wearing masks and doing dumb shit like going to the beach every weekend.
For more of the same, check out the ten most disgusting sex acts as described by urban dictionary. Definitely don't do those during a pandemic.