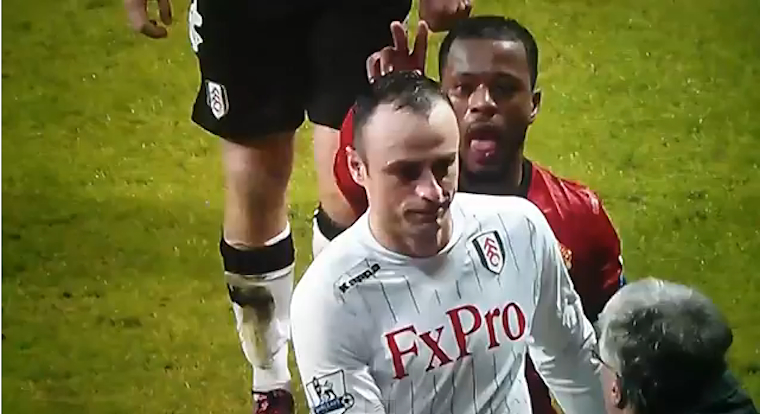 This happened on Saturday but I don't work on Sundays so couldn't get it up, and I didn't even hear about it until today either and I thought it had Sick Chirpse written all over it so just had to get it up on the site. Basically, if you're into football then you probably know that Man United spanked Fulham 4-1 in the cup at the weekend in what was Dimitar Berbatov's return to Old Trafford after his summer transfer to Fulham. Obviously Berba wanted to make an impact and prove to Alex Ferguson that he was wrong to let him go, but unfortunately nothing of the sort happened as Fulham got rinsed, which is probably what everyone expected to happen.
Something notable did happen to Berbatov during the match – or more accurately after the match – as he was trolled pretty hard by Patrice Evra as they left the field. I don't really remember what putting your fingers over somebody's head and doing bunny ears actually means but it's always pretty funny when anyone ever gets got with it and this was no exception. Check out the video below:
[yframe url='http://www.youtube.com/watch?v=6T6qPQkhv5Y']

I was actually kind of annoyed at this to begin with because I think Evra is kind of a jerk and Berba is really cool. I don't like Evra because he plays for Man United and complains all the time like a jerk and because of all that bullshit with Luis Suarez (I'm sure a bunch of people disagree with that but whatever, if Evra hadn't made a big deal about it then it would never got so out of hand and I don't really want to go into it in this article)  and Berba is just obviously cool because he has the best first touch in history.  So I was kind of annoyed with Evra trolling Berba here as I figured it was exactly the kind of thing that if anyone did to him then Manchester United would probably order an FA enquiry into it, that would obviously be immediately convened and after a very short deliberation period would lead to the player being banned for 10 games or something. I did some quick research though and it turns out that Berba and Evra are actually pretty good mates off the field so it was probably just a bit of a get between the two so I'm OK with it. I still don't like Evra that much though.
I also discovered this video of Evra doing bunny ears on Alex Ferguson which is probably even more lolz. What the hell is with bunny ears? Is it making a comeback or something? Or is it just Patrice Evra? I tried to look up what bunny ears actually meant as a cuss but nobody seems to know, other than it's designed to make the person receiving the bunny ears look stupid which kind of goes without saying and I guess which Evra proved as definitely makes Berba and Fergie looks stupid in these photos. Another interpretation of it is that it means whoever receives the bunny ears has a cheating spouse, which I guess might imply that Evra knows that since Berba moved to London his wife has been fooling around with John Terry or something.
Check out the other clip below:
[yframe url='http://www.youtube.com/watch?v=W4uKXo2EDY0′]

☛ Here's Some More Trolling:
Nick Griffin Thrown Off Twitter For Being A Homophobic Troll
Muamba Twitter Troll Is Jailed