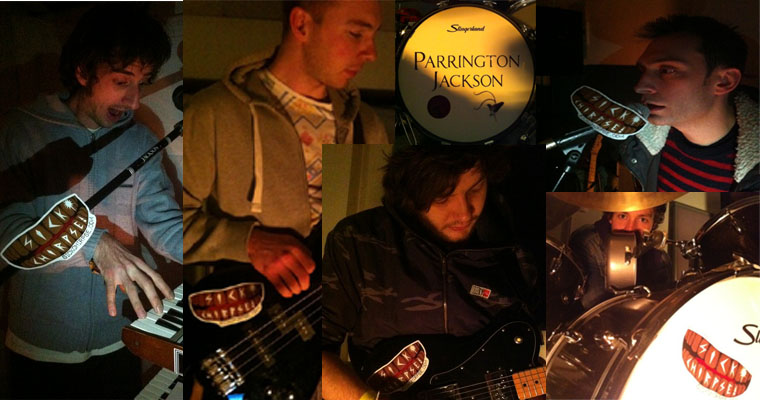 So I'm sure everyone checked out that post last week about those Aussie birds putting Sick Chirpse stickers all over their tits and throwing a make-shift party in a bath tub where they all got high and fucked each other…I think that's how the article went. Anyway, don't let it ever be said that Sick Chirpse are sexist – as a load of lads have stuck stickers on their faces and sent them through to us to prove some kind of allegiance…or to rep their band, I haven't decided yet.
They are called Parrington Jackson. That may sound like some weird bloke who used to be friends with your dad and would come round to take baths with you every Tuesday night or the lost sixth brother of the Jackson family but it is has much more mysterious connotations than that…
The five piece Bristol based band took their name from the victim of an unsolved murder committed on 29th May 1946 at the Bristol Odeon Cinema. The cinema manager (Robert Parrington Jackson) was chilling out in the projection room when suddenly five gunshots sliced through the air from the on screen thriller that was playing. However, when a sixth shot rang out across the crowded cinema coinciding with the on screen death – Parrington Jackson had his life extinguished with a shot to the temple — and no one was the wiser. So their name might be pretty ancient but in all fairness from what I've heard of them they don't sound half bad.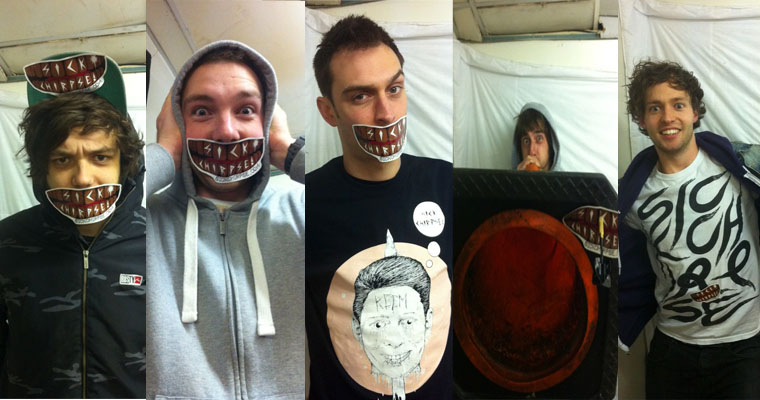 [soundcloud]http://soundcloud.com/parrington-jackson/did-it-all-clip[/soundcloud]
I struck up a conversation with the lead of the band, Rich, at a gig about a week ago on account of the Sick Chirpse Tee he was wearing — so from the off I thought he might have a bit of taste. We got chatting and within a matter of time I was trying to convince him I was a big deal and that I write for Sick Chirpse when he said he'd send me some music through and I should post something about it. Normally I'd tell him to go fvck himself but it all seemed legit and I thought what harm could it do?
[soundcloud]http://soundcloud.com/parrington-jackson/looming-clip[/soundcloud]
The band is made up of Rich Bromley (lead vocal/guitar), Tom Foley (bassist), Lewis Hill (synth), and brothers Shane (drums) and Max Tremlin (backing vocal/guitar). Their sound is a melancholy mix of alternative rock and harmonies infused now with a new age electro vibe that shits on a lot of the other indie shit that seems to be out there at the moment.
Apparently they've been together for a year or two but have had a bit of a change around after their original launch that has seen them stick an EP up on iTunes and get a fair bit of coverage. They played live on a couple of BBC introducing programmes and supported loads of bands over the last year or two – from The Guillemots to Nirvana favourites The Vaselines and Shonen Knife. However their new sound has taken on more of an electro edge but is still driven by bass lines, with the guitar often providing an extra layer to the song rather than simply carrying melody – clearly seen on new track Looming.
[yframe url='http://www.youtube.com/watch?v=z3AKvKyOJmE']
The lead has that hard-to-muster introvert meets arrogant quality that enriches the fans and leaves the females swooning at the front of the stage like a wannabe forever young Jim Morrison. With a mouth so large that you would be forgiven for thinking that he is going to swallow the world and you within it – he is able to hit some serious heights with his voice leaving the listener quite honestly awestruck. Lead guitar is handled by the younger Tremlin brother, Max, and that is just what he seems to do, handle it. Effortlessly powerful with a clear demonstration of charisma, muscle and a penchant for hooks.
Bassist, Foals, is a resident DJ at a couple of nights across Bristol and takes inspiration from a lot of grimier aspects of the Bristol music scene which come across in the production of the sound but not so much in the guitar itself as he plays expertly and proficiently. Drummer Shane is the real constant of the band. Throughout their tracks and especially on new track Did It All he seems to switch between a rhythmic spill of jazz and a thrashed out rock style that flows so well as the basis of the sound.
Finally, the synth…a lot of people say that synth players are the new drummers and are the butt of a lot of jokes aimed at any indie bands and often for good reason – please see Being A Dickhead's Cool. It seems as if Lewis might just be the missing link this band was looking for though as he induces an element that leaves me feeling that they'd be more at home in a dark dank subterranean hole than the 02 Academy. He brings the band back to where everyone secretly wants to be – in a grotty club with other people who genuinely enjoy good music. There are no lazy chords here, and instruments slither purposefully over and around each other crashing and punching their way through an electro punk-funk groove that is textured with solid guitar as you will hear in the third track from their EP – Fed Up.
[soundcloud]http://soundcloud.com/parrington-jackson/fed-up[/soundcloud]
It sings of Bristol in a fvck-me-this-is-music-didn't-we-invent-music-before-we-invented-slavery kind of way that makes you stand up and want to be counted as a guitar wielding axe murderer. Parrington Jackson are doing something that a lot of bands fail to do – alert people to your potential but don't fulfill it. Remain enigmatic while firing out enough tough rhythms to get people dancing. Textbook stuff from the boys who have a lot to prove as the last band to really make it from Bristol was trip-hop champions Portishead.
The sound is of five guys pouring their heart into a record – and i'm not gonna light a fire under them and cause a frenzy but they're sharp. For all Bromley's lofty poetic ambitions, the band remain tight, bristling with passion, energy and some excellent songs – but it is the punkoid jitters of a band on the edge of something new that will make you want to watch them live. They are playing The Croft in Bristol Friday 14th December with support from Goan Dogs and Nailbunny for the launch of their new EP Looming – as well as having a couple of gigs coming up across the UK. Essentially stripped-down, it's an electro/rock record that manages to verge on the touchstone of Great British music – Britishness of The Kinks, wit of The Smiths and the clatter of a fresh new band that have no issue with slapping stickers across fans tits…and that's something that Sick Chirpse can certainly buy into.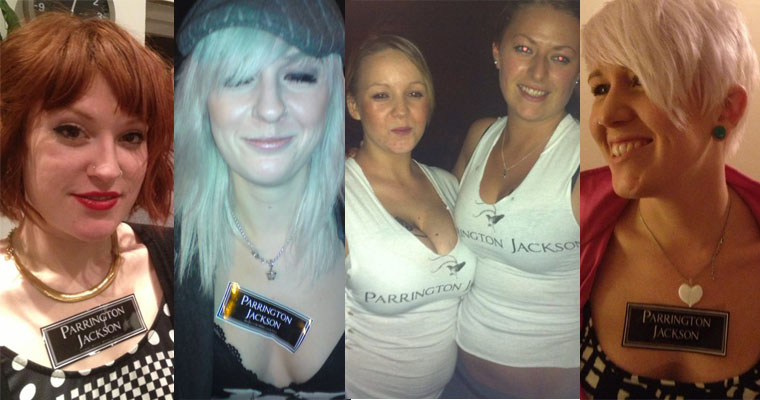 Follow AMJ @amjeezie
Follow Sick Chirpse @sickchirpse
Follow Parrington Jackson @parringtonjack