Teenage girls were left heartbroken over the Christmas period when Josh Farro's statement about his and brother Zac's exit from Paramore claimed that the band wasn't actually a hardworking punk rock band that struck it big through sheer will and determination but rather the product of a major label and that Hayley's 'dream' didn't actually exist. OMG!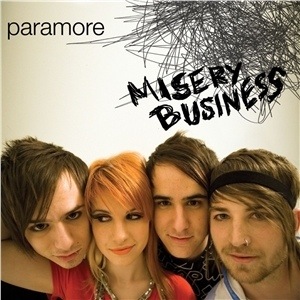 Following the statement, Paramore were worryingly quiet regarding the whole affair as hearts broke all across the globe. But hey, give them a break, it was the holiday season and (despite possibly being manufactured) they're real people too.
But now they've responded by going even more high tech than a blog in their response – a live stream due to air this Friday on MTV.com. I'm not really sure how it can be considered a live stream as they are already showing a bunch of clips of it on the MTV.com website and there are also a bunch of transcripts which suggests that it's been pre-recorded, but whatever.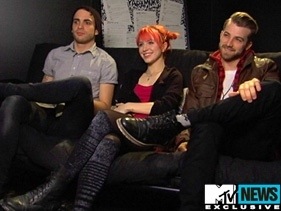 Predictably, they (re: Hayley the other two guys who nobody really cares about just sit there and nod) have denied everything in Josh's statement, with lines like "We're not a manufactured band. We've dealt with that rumor for a long time, and that's because of the rumors of Fueled by Ramen and Atlantic's relationship. We've always talked about that … saying, you know, when we started, I again fought for something that we could really work hard and start from the ground" flying around all over the place.
She even admits what fans have suspected for a long time, in that a lot of the lyrics on the bands recent multi platinum album are about Josh Farro himself: '"I would say that a large majority of those songs, yes, have to do with the relationship we had and then that we had to mend" OMG!
Realistically though, when you look at her statement it doesn't really mean anything, as Hayley could easily have been signed as a solo artist by a major and then 'fought' with the label to be marketed as a band and one that built itself up from the ground up. Which is probably what happened.
Ultimately however, as I stated in the previous article, I doubt anyone will care about this and Paramore will go from strength to strength this year. They've already got Josh Freese (originally of the Vandals but now Guns N Roses, A Perfect Circle, Weezer, Avril Lavigne, Good Charlotte, pretty much every band ever who need a fill in drummer) to drum for them on their South American tour and although he isn't quite Travis Barker he's still pretty gnarly. Here's a picture of him celebrating with a turkey sandwich and some soup after he heard the news: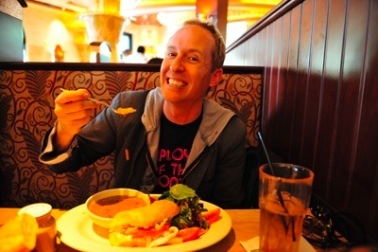 Anyway, here's a clip of the interview and make sure you tune in to the LIVE STREAM today on the MTV.com website at 4PM (EST) for the full story: