William J Peace is a professor at Northwestern University in the US who suffered a paralysing spinal cord injury which had him go through a long and arduous rehabilitation process in hospital.
Featured Image VIA
Despite his uni's attempts to shut this essay down, Peace wrote and released it as an enlightening piece on disabled people reclaiming sexual idently.
It does read like a bad porn film script but the fact is – this actually happened.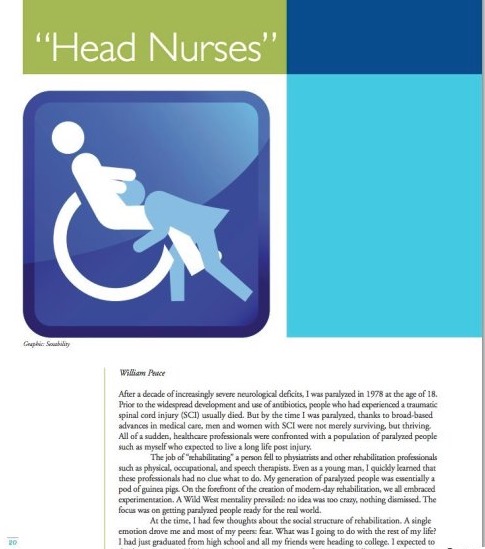 Take it away William:
But late at night, my roommates told me about the other group of bad girls–the ones I desperately wanted to meet. These bad girls were called "the head nurses." Initially I thought this was an urban legend if not a bad practical joke. Yet I was told again and again that, at some point during my rehabilitation, a nurse I knew or had never seen would answer the call bell late at night and give me a blowjob. There was no privacy in rehabilitation centers at the time. Rooms usually held four to six men. All that separated me from the other paralyzed guys was a flimsy curtain. We did not even have a television in the room. Just the physical set-up alone made the stories seem like impossible fantasy.

But sure enough, late one night I was awoken by the guttural sounds of deep moaning. I turned to see the silhouette of a young shapely woman giving my roommate a world-class blowjob. I remember this night with crystal clarity because it was the first time since being paralyzed I got an erection. My dick was alive! Who needs a doctor when you have a head nurse!

A week or two later, I received my own visit. It started out badly. It was late at night and I had pissed all over myself and the bed. I hit the call button, upset. I thought I had had a handle on bladder management at that point. The nurse that came to help was one with whom I was very close. She changed my sheets and came back as I was washing myself. I was playing with myself without much luck. She explained I had to be a bit more vigorous and try non-traditional approaches. Then she rubbed my leg and pulled the skin on my inner groin, and sure enough I grew hard. I started to cry in relief. She wiped away my tears and then went down on me. She brought me to orgasm, and I was taken aback when I realized no ejaculate had emerged. She explained to me that this is common for paralyzed men and that it involves a retrograde ejaculation. She assured me it would not affect my fertility or my sex life in a major way. My son is living proof she was correct.
Boom! What a story. And what an awesome bunch of ladies these Head Nurses are giving out blowjobs to men who are pretty much at their lowest point in life, wondering if they'll ever be able to get an erection let alone have sex again. Big up the Head Nurses and here's to many more BJs for William and his friends.
READ NEXT
Auntie Angel Teaches Women The Grapefruit Blowjob Technique (NSFW)
Teenage Girl Whose BJ Selfie Went Viral Is Loving The Attention
Science Says That Blow Jobs Are Good For Women's Health And Fight Depression