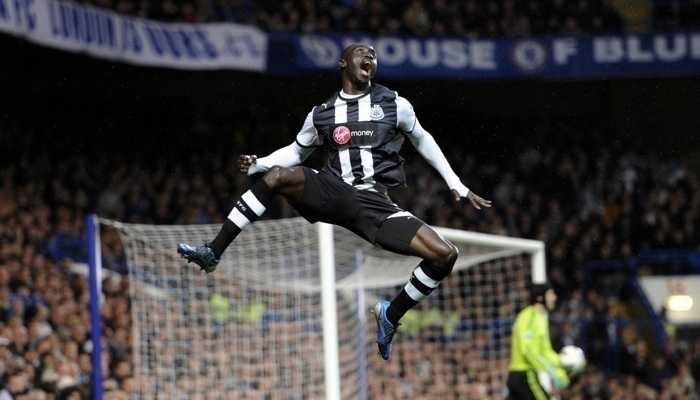 Julio Geordio. Fictional colombian footballer playing for the toon army. A pop culture nod to Faustino Asprilla, the 'octopus', the enigmatic, gun toting, cartwheeling, corner flag raising and misbehaving cult icon.  Did his arrival (along with that of David Batty) steer Newcastle United's title challenge off course? Either way that's a topic for another time. One thing that Asprilla brought to St James' Park (officially on the ordnance survey maps) was a wicked smile and an eye for the spectacular. On his debut against serious rivals the smoggies he pulled a cheeky turn and got an assist, a strong start but perhaps he is best remembered for the infamous hat-trick he scored against Barcelona in the Champions League. Colombian bang bang.
Deja Vu is hitting me once again as a new exciting forward joins the team, flashing that same wicked grin and ability to literally slay his opposition. Finishing only second to Mario Gomez last year in the Bundesliga top scorer charts, Papiss Demba Cissé has lit up the Premier League like an oversized Chinese firework. Happy new year.  Yet despite his immediate impact and rapid rise to notoriety, he is a shining example to counteract the stereotype of the footballer today.
There are a lot of footballers out there who do some incredible work for charity, work which is often forgotten about and for which these players deserve a great deal of credit.  In an age when many footballers seem too busy for their fans it is often the little things that count.
Upon his arrival at Newcastle, Cissé received a 'Welcome To Newcastle' card from young brothers Jack (seven) and Sam Livingstone (four) and responded in the possibly the best way possible.  The young brothers opened their front door on Jack's birthday to find their new hero standing on the doorstep, with that trademark smile baring signed gifts.  The brothers were delighted with the visit, and the boys father John spoke very highly of the Newcastle number 9.  "Footballers don't always get the credit they deserve for things away from the football field, this gesture from Papiss just shows what a genuine, down to earth and tremendous person he is."
Cissé spoke of the welcome he has had since joining the club and specifically the gesture made by the two young brothers. "The welcome I have received in Newcastle has been incredible and I thank everyone who has helped me settle in, from those at the club to the thousands of supporters who I think are simply fantastic, I am deeply touched. Going to see Sam and his family was just my way of saying a special thank you to a young fan who showed genuine kindness in welcoming me to a new country and new club. I must thank them also for the Easter bunny they gave me, it was very nice."
Cissé then added to his sterling reputation when he had his haircut in Gateshead, resulting in a crowd of excited Geordies amassing outside the shop, desperate for a glimpse of their new hero.  Barber shop owner Iyad Attallah, said: "There were five people waiting for a haircut when he came in and sat down. He waited in the queue like everybody else and even let a 14-year-old boy go before him. Ten minutes after he arrived, there were 200 people outside the shop. It was crazy."  After finishing his trim, Cissé went outside and posed with his fans, signing autographs and appearing to revel in the situation.
[yframe url='http://www.youtube.com/watch?v=tEq2qMC7HrE']

What a cracking example of how a modern player should behave, instead of almost crashing your car when offered 'only' £50,000 a week (Ashley Cole in case you didn't know), why not give that little bit of time to show some respect to your fans.  It seems like Newcastle have finally found their Julio Geordio, a footballer and a gentleman.
It would not be proper to end this article without mentioning  the Chelsea vs Newcastle game from last night. Papiss scored two absolute blinders, one of which is a goal of the season contender. Enjoy.
[yframe url='http://www.youtube.com/watch?v=lB6XrQQx2gQ']