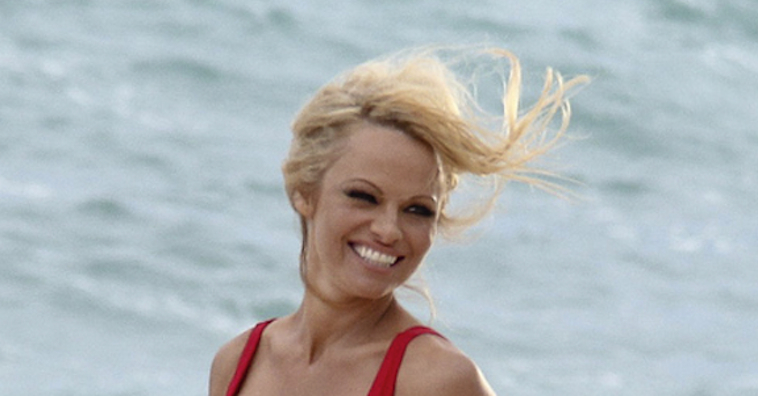 I was tempted to put a NSFW tag on this but it really isn't that bad. Basically if you're anything like me then you probably spent most of your early teenage years watching Baywatch on a Saturday Night on ITV and wondering how David Hasselhoff was such a stud with all the ladies despite being such an idiot. Actually, back then you probably just thought David Hasselhoff was actually a cool guy (he is kinda cool, check out this video of him appearing on Who's Line Is It Anyway?) because you had never chirpsed a girl yourself (Need help chirpsing girls? Check out the Sick Chirpse Guide To Scoring Girls In College) and were just sitting around trying to figure out how to masturbate over all the hot bitches on the show in their red swimsuits.
And let's be serious those babes were the star of the show, and not David Hasselhoff – he was just the luckiest man alive as he got to be in Baywatch and hook up with all of them, as well as hang out on the beach all day and look at them in swimsuits. And none of those babes were more iconic or associated with Baywatch than Pamela Anderson who played C.J. Parker. Every kid ever would just wait for that point in the episode where some idiot loser was drowning which meant she had to run across the sand with that stupid red float thing in slow motion so they could stare at her tits wobbling around everywhere and try even harder to figure out how to masturbate. In case you've forgotten, here's a great montage of some of her best moments in Baywatch:
[yframe url='http://www.youtube.com/watch?v=Z9UPh7KKyfs']
So yeah, Baywatch hasn't been on for like 20 years or something I guess and Pamela Anderson hasn't really been doing much, but over the weekend she was filming an advert over in Rio Di Janeiro and got back into her iconic Baywatch onepiece and actually looked pretty good. I mean obviously she doesn't look as good as she does in the montage above but for a 45 year old woman she's still looking fly, although the last one doesn't make her thighs look so hot. I guess it is taken while she was running though, I can probably let Pamela Anderson off for that though. It's cool that she doesn't look COMPLETELY plastic surgeried (is that a verb?) too and also pretty brave of her to even put it back on considering she definitely knew she wouldn't look anywhere near as good as she would have done back in the day.
So yeah, I think I probably still would, I mean it's Pamela Anderson, you gotta really right? Would you? Check out the pics below: