Racism comes in all shapes and sizes, but aside from actual physical violence then I think this is one of the most despicable forms of racism I've ever come across, as London was plastered with 'Pakemon Cards' over the weekend.
Images VIA 
Obviously, Pakemon is a play on Pokémon, and involves coming up with a racist name for a Muslim and putting some of their stats and a brief description of them on a card, and then whacking it on the Tube to try and 'encourage' the population to catch and deport Muslims. The catchphrase for the 'game' is 'gotta catch and deport 'em all'.
London Mayor Sadiq Khan has been targeted, alongside Uber drivers, Barack Obama and white Muslim convert Jordan Horner. Obviously all the racists on Twitter have been absolutely buzzing over them and sharing them all over the social network, encouraging people to collect and swap them in order to raise awareness over the Muslim 'problem'. Disgusting.
Sightings of the stickers have been reported all over London tube stops, including Waterloo, Surbiton and Bromley. The British Transport Police had the following to say about them: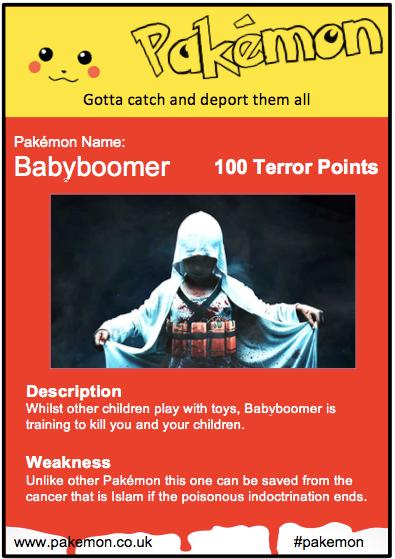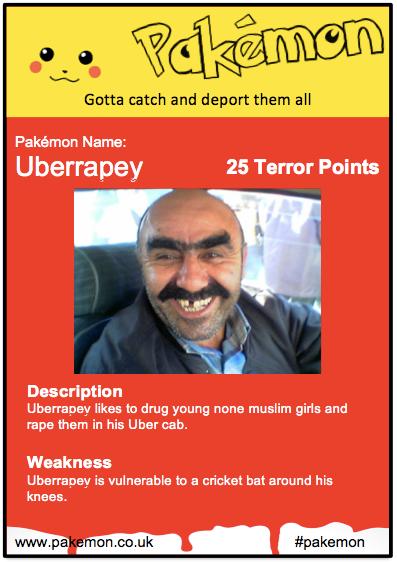 British Transport Police is committed to preventing incidents of hate crime and prejudice and all incidents of this nature are investigated thoroughly.

Everyone has the right to travel on the rail network without fear or intimidation. Racially or religiously motivated crime will simply not be tolerated.
Absolutely agree with them. There's nothing cool about racism like this, especially following the last year this country has experienced so leave it and rip any of these down if you see them. It's not helping anything.
For some cool stories about actual Pokémon though, click here. That'll cheer you up.