As I already mentioned in my review of Atomic Burger, I was in Oxford last weekend for a friend's birthday, and he had suggested that we go to the Oxford United match that weekend. I love football and figured it would be pretty funny to watch a league 2 match instead of the standard of Premiership football I'm used to down at St Andrews (don't all laugh at once) so agreed without too much of a fight.
It turned out Oxford were set to play Rotherham that weekend. With Rotherham and Oxford only a few points away from each other in the league, and Rotherham in the playoff positions and Oxford lying just outside of them, I was told that I was in for a smasher. I was excited.
Upon arriving at the Kassam stadium, I had to laugh my ass off when I noticed that it only had three sides and the fourth side was just some fences next to a car park. But hey, I guess we are in league two (and apparently Oxford had only just got promoted from the conference too) so I can cut them some slack.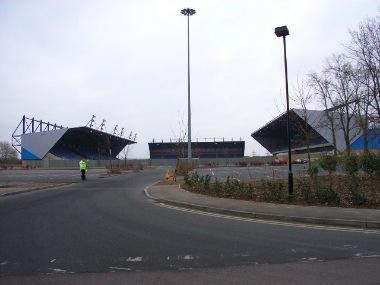 I was pretty stoked that there was a mass of free parking really near the stadium and that we didn't have to pay for that, as usually around St Andrew's you have to pay at least a fiver and then walk for about 15 minutes to get to the stadium. HOWEVER, my elation soon turned to despair when we arrived at the ticket office to purchase our tickets. How much do you think a league two football match would cost to attend? I was thinking something like a fiver, or maybe a tenner.
Not even close. Twenty one pounds!!! Unbelievable. We guessed that as we were there we should probably go in, but still – that is a ridiculous price for LEAGUE TWO football.
We made our way to our seats. The view was pretty good and the quality of football was ok. The first half was fairly exciting, as we saw two goals, one for each side. Oxford scored first with a precise right footed shot from midfielder Simon Heslop, after striker James Hidson had run to the byline and intelligently pulled the ball back into his path. The equaliser came after Nicky Law managed to reach a neat through ball from Callum Kennedy before Oxford goalkeeper Ryan Clarke and dink it over him into an empty net.
Although he didn't score and wasn't involved with the goal, i was pretty impressed with the number 9 for Oxford, James Constable. He was a bit of a handful. I later found out that he's one of Oxford's all time top scorers and has his sights set on becoming number one! He also scored in the playoff final last season and captain's the team so is pretty much a hero in those parts, although you can't please everyone someone behind me kept calling him a cunt all the way through the match. Go figure. Here's a picture of James Constable celebrating a goal: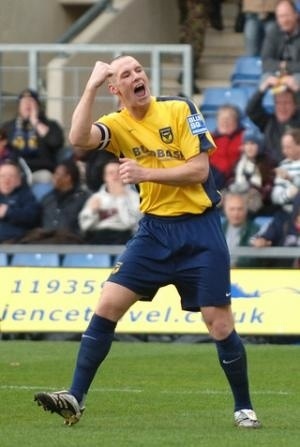 Oxford didn't start off too well in the second half but the game was transformed with the introduction of new signing Simon Hackney, who played as a left wing forward. This guy was completely sick and ran the show from the moment he came on. He was running at people, skinning them, and putting some completely sick deliveries into the Rotherham penalty area. Hackney kind of reminded me of a League Two version of David Bentley. Here's a picture of him from back when he used to play for Colchester United: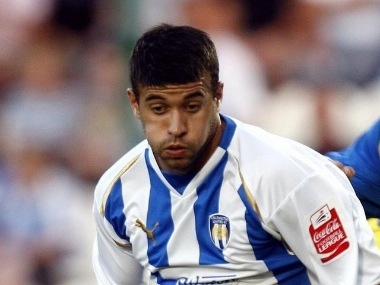 Anyway. The turning point of the match came when Hackney put a cheeky little through ball into the box for another Oxford player to run onto and be one on one with the keeper. Callum Kennedy couldn't deal with it and took him out. Result: Penalty and a red card. Steve Maclean just about managed to convert the penalty, rather embarrassingly for Rotherham keeper Andy Warrington he blocked the penalty but instead of beating it out he let it bounced and spin backwards into the net. The stupidity of this was paralleled only by Maclean's celebration, in which he ran over to the corner flag and dropkicked it. League Two is the only way to sum it up.
Following the second goal Rotherham were never really that dangerous and didn't really have any chances to finish the game off. Hackney was skinning a few people and he set up Constable twice for one on ones, but the big man failed to find the target when he really should have. I still think he looked like a prospect though, watch out for him in the future.
After the match, it took a real long time to get out of the car park because everyone had parked there. I guess that's the downside to being able to park really near the stadium and not have to pay though. I would take that trade-off though. Me and my friends just checked out the Oxford United store and all bought t shirts for three pounds each. They were a real nice fit and a bargain. After that we still had to wait a bit so played this cool game where you had to kick the ball into my car with a header or a volley.
The excursion had been a success. Apart from the ticket price – which i still maintain is ridiculous – the game had been fun and I had unearther two players to watch out for in the future: James Constable and Simon Hackney. To prove just how sick Simon Hackney is though, here's a video I found of him on Youtube where he scores an absolutely sick free kick. There is next level curve on it. Somebody gets headbutted right before he does it too which is kinda cool:
httpv://www.youtube.com/watch?v=mVP0b34l5CM