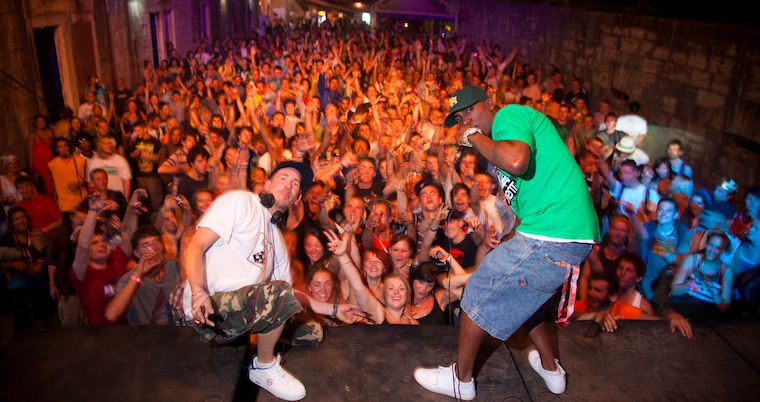 Outlook Festival is already well renowned as THE BEST bass festival in Europe and it looks as though this year is set to be no different. In case you didn't know (but I'm sure you did because even people who don't like bass seem to have heard of Outlook) It takes place in Croatia at the beautiful location of Fort Punta Christo in Pula from 30th August to the 3rd September and is set to be even better this year. In addition to an already incredible lineup, they have just announced a whole bunch of new acts that will be appearing at the festival that are only going to make the party even more mindblowing.
First up is Lee Scratch Perry. With a career in music that dates back to the 50s, Lee Scratch Perry has had a massive impact on Jamaican culture and beyond. Perry has been the production powerhouse behind some massive names including Bob Marley & The Wailers. During the late 60s his experiments with studio equipment made Perry one of the founding fathers of Dub. Now residing in Switzerland, this influencer sets course for the coast of Croatia for Outlook 2012.
Another wizard in the studio joining the bill at Outlook is a British record producer who has been flying the Jamaican colours since the 1970s. Prince Fatty has not only worked with Reggae legends like Gregory Isaacs but has also dipped into Hip Hop working with The Pharcyde and The Sugarhill Gang. Now working with British talent Hollie Cook, Prince Fatty takes time from the studio and makes his way to the stage.
Fresh from killing it at Redux's 2nd birthday party, Trim has been added to the Outlook festival lineup, ensuring the presence of the grime factor in Croatia. Originally a member of east London crew Roll Deep, Trim has made his name ring out across the Grime circuit recently as a solo artist. Trim has backed up his impressive string of mixtapes with recent appearances on productions from James Blake and Becoming Real with his unique flow.
In addition to these many Sick Chirpse favourites – including Juma Phist and Mosca – have already been announced which ensures that the festival is going to be a big one. If there was any doubt in your mind anyway, you can check out the full lineup so far below:
FAT FREDDY'S DROP, SKREAM, ANDY C, JAH SHAKA, MAX ROMEO, PHIFE (A TRIBE CALLED QUEST), LEE SCRATCH PERRY, DIGITAL MYSTIKZ — MALA & COKI, TWINKLE BROTHERS, HATCHA, FRICTION, DJ MARKY, THE BEATNUTS, ZINC, GOLD PANDA, CONGO NATTY LIVE, SCUBA, GOLDIE, KODE 9, JOKER, N-TYPE, PEARSON SOUND, LOEFAH, THE BUG, FLOWDAN & DADDY FREDDY, IRATION STEPPAS, MUNGOS HIFI, GENTLEMAN'S DUB CLUB, ZION TRAIN, SOULS OF MISCHIEF, PINCH, DBRIDGE, CALIBRE, YOUNGSTA, RUDIMENTAL, TRUE TIGER, BODDIKA, ADDISON GROOVE, TEEBEE, CALYX, DISTANCE, BEN UFO, ONEMAN, APPLEBLIM, ZED BIAS, BLAWAN, ALIX PEREZ, ICICLE, MARCUS INTALEX, KLUTE, JACK SPARROW, THE HEATWAVE, CHANNEL ONE, SPECTRASOUL, THE DISCIPLES FEAT JONAH DAN CONSCIOUS SOUNDS + KING GENERAL, REMARC, GIRL UNIT, GUSSIE P, SOOM T, DISRUPT, KUEDO, ROCKWELL, AUTHOR (Live), PLASTICIAN, CHEFAL, TRIM, ROSKA, MOSCA, KRYPTIC MINDS, SUBMOTION ORCHESTRA, SERIAL KILLAZ, STAMINA MC, YT, GEORGE FITZGERALD, THE PROTOTYPES, QUEST, DARKSKY, MARCUS NASTY, PANGAEA, AKALA, NAVIGATOR, SP:MC, VIVEK, LENZMAN, BROTHER CULTURE, OBF, MICKEY PEARCE, BLACKS, TUNNIDGE, MENSAH, JUBEI, XXXY, DUB PHIZIX, STICKY, ILLUM SPHERE, BROKE'N'£NGLISH, PHAELEH, EARL GATESHEAD (TROJAN SOUNDSYSTEM), ONRA, BLUE DAISY, SEVEN, STAND HIGH PATROL, RSD, CYRUS, KIDKANEVIL, HINT, FANTASTIC MR FOX, FLAKO, DISCLOSURE, T WILLIAMS, THE FOUR OWLS, JACKY MURDA, ANT TC1, MC DRS, LIONDUB, J:KENZO, OCTANE & DLR, SERUM, ELIPHINO, LX ONE, MC CRAZY D, OSSIE, JAMIE GEORGE, MATT U, ARIES, DIGITRON, DANMAN, ELGATO, REGGAE ROAST, CHIMPO, MC LOWQUI, MC AD, COMMODO, BIOME, HYETAL, RUCKSPIN, PLANAS, BUN ZERO, RIDDIM TUFFA, JAY 5IVE, STEPPA & KITCHA, DISMANTLE, STRATEGY, ALTERED NATIVES, CHARLIE DARK, SKITTLES, DAUWD, BALKANS HIFI, DUB BOY, LURKA, DJRUM, RICH REASON, MANTMAST MC, ALBY DANIELS, INSPIRATIONAL SOUNDS, GORGON SOUND, DJ FU, TOAST, VITAL TECHNIQUES, ADAM PRESCOTT, HYPEMAN SAGE, G DOUBLE, THINKING, LUD DUB, EARTHPIPE, FINWA.
Of course, Sick Chirpse will be heading over to check out the festival and if you want to join us here's a summary of the essential information, but you're probably better just heading over to the official Outlook Festival website and checking that out.
Outlook Festival Ticket: £135 + bf (18+ only, ticket covers festival entrance only) // Dual Weekender, Outlook & Dimensions Ticket: £230 + bf (18+ only, ticket covers festival entrance only) // Boat Party Ticket: £20 + bf // Camping: Starting From £36 + bf // Sunshine Bus Return Coach from the UK: £175 + bf
I've been told that the event looks like it is going to be sold out by the end of May, so if you're serious about going you had better look at snapping up those last few remaining tickets right away.