Gonna keep this quick because I doubt anyone is really that interested in a new punk record, but I was really blown away by the new record from Southampton based hardcore mob Our Time Down Here. I'm pretty much over hardcore as a genre now I'm in my mid twenty's – I'm not angry at my parents/the government/the world anymore and I don't want to go to the upstairs room in some crappy little pub and beat the shit out of my best friend and jump off speakers – but I always enjoyed OTDH the few times that my old band played with them and listened to their records semi-frequently.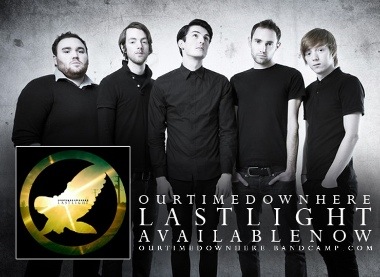 I had always viewed them as a Kid Dynamite/Shook Ones-esque band (no bad thing at all) which owed as much to frontman Will Gould's trademark snotty punk snarl – reminiscent of the great Jason Shevchuk – as it did to the breakneck drums, Dan Yemin style guitars, gang vocals and short, sharp songs usually under two minutes long. However, upon the release of new EP 'Last Light' they announced a 'progression' and seemed genuinely worried by the potential fan reaction judging by press releases and posts on random internet message boards.
Thankfully though, the reception seems to have been overwhelmingly positive and I have to agree with it. All the trademarks described above still exist, but the songwriting and vocals have been altered dramatically to shift from in your face double time anthems to a new focus on improved dynamics and instant singalongs. One song even lasts almost four minutes!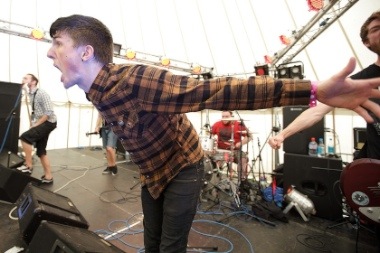 This is thanks in no small part to the drastic change in vocal style from frontman Will Gould. Rather than vaguely intelligible hardcore yelps as previous, you can now actually understand the majority of Gould's vocals, as he croons like  a young Matt Skiba crossed with Frank Turner but never loses his trademark snarl which so defined the band in its early years. Gould excels lyrically too, as he laments over love and life in the dreary town of Southampton. 'Do you like me or just the idea of me?' he wails on standout track 'Tiny Teeth,' in a line that is destined to be repeated to him at countless shows all over the country in the coming year.
Ultimately the hardcore blast beats may be gone but the adoption of a (dare I say it?) more mature sound works wonders for Our Time Down Here, and I can see this being the record that finally gets them the recognition that their relentless touring schedule deserves. You can check it out here