Joe Biden was inaugurated as President of The United States yesterday amid some genuine fears that QAnon members could storm Washington D.C. and cause a major ruckus like they did the other week, but the event passed without incident.
Images VIA 
There were also rumours that MAGA/QAnon/Trump/whatever supporters would be turning up at each state capitol building to protest the inauguration, but the speed with how this movement has lost momentum can perhaps best be summed up by the fact that one single solitary protester turned up at the Capital Building in Albany, New York. Mark Leggiero cut a sad looking figure as he stood there waving his flag limply for a few minutes on his own.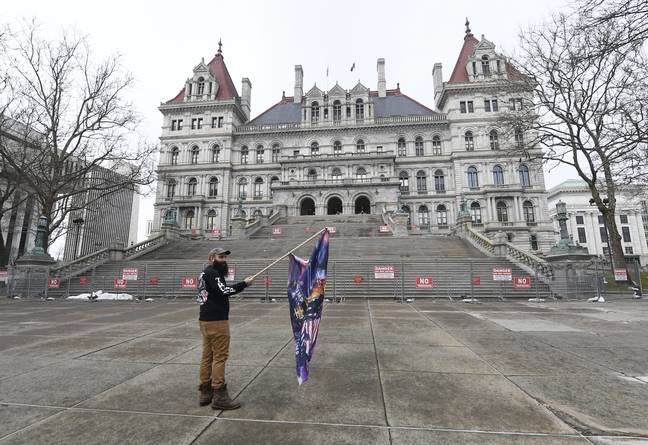 What a sad loser. I suppose we should commend him for standing up for what he believes in, but the funniest thing about all this to me is that the guy literally didn't have one single friend from his 4+ years supporting Trump that felt like it was worth going down and protesting about.
Was it too cold? Do they only sing when they're winning? Have they given up completely after the outrageous scenes in Washington a couple of weeks ago? Or is the movement planning something even more sinister for the future and these pictures are just lulling everyone into a false sense of security?
I guess time will tell but I hope it's the first option there. Really hope we've seen the last of these morons and they've all crawled back to whatever hole they came from.
For more of the same, check out Greta Thunberg trolling Trump on his way out of office. Don't blame her to be honest.