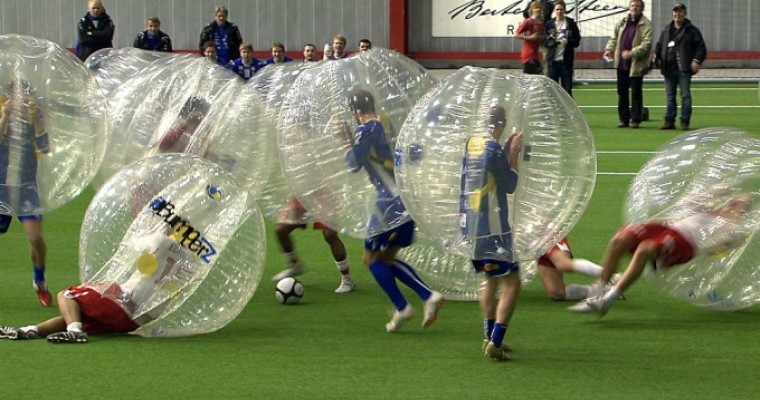 So aside from Ole Gunnar Solskjær, Norway isn't exactly famous when it comes to football. I mean I could name a couple of clubs but that's only because I have to raid the rubbish leagues on Football Manager, in my quest to get Bristol Rovers into the Champions League (that's the standard of football we're talking about here). Anyway, Norway must be tired of living in the shadows of Sweden and Denmark because they're single handily trying to revolutionise football.
A Norwegian TV programme called Golden Goal (bit retro) has come up with a new way of playing the beautiful game, called 'Bubble Football'. Now I didn't think football could be improved (aside from those dodgy away kits and Gary Neville) but then I seen this, and you've got to admit it looks like fun. Players have to wear inflatable bubbles which not only makes Barcelona-esc type of football impossible, but it also encourages out and out fouling and some of the worst rugby tackles you'll ever see. Even Nigel De Jong (beast) would be proud of some of these.
In the video we see two professional Norwegian teams Fredrikstad and Sarpsborg 08 giving the concept a trial match. The video is 6 minutes long so if you don't want to laugh at the funny accents while Golden Goal's equivalent of Gary Lineker explains the rules, skip to 1:12.
[yframe url='http://www.youtube.com/watch?v=xIl45f6i1PU']
It's because of this that if Norway weren't so crap at football and could qualify for a major tournament, I would definitely had been cheering them on at the Euro's once England get knocked out in the group stages. Come on England!