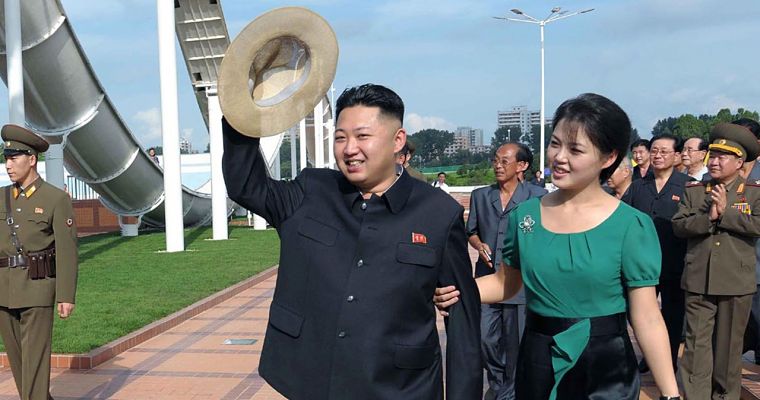 North Korea. Everyone who lives there will tell you it is indeed the greatest place on earth. It's basically a giant Disneyland theme park, that you're not allowed to leave. It's so exclusive that few people, if any, are allowed tickets to go there. In fact, they don't really encourage tourism. Preferring instead to keep all of their magical wonders to themselves. Occasionally they release videos, showing off all the great stuff they have there, like unicorns. Yes, they have unicorns. Beat that? These videos are intended to stick two fingers up to the rest of the world to make us all jealous and show us all what we're missing out on and can never have.
☛ Read Next: North Korea's Satellite Launch Is Tumbling Out Of Control And Could Possibly Destroy The World
Just recently, they were showing off some of their impressive and super scary technology for all the world to quiver at:
[yframe url='http://www.youtube.com/watch?v=Gy-7ryKCq-A']

Now, this caused much fuss around the world, as inferior countries that don't have unicorns, started to worry that their rockets didn't quite measure up to the mighty NK. But they needn't have worried, because all they were doing was launching a weather satellite. The worlds loudest belly laugh was later heard around the world as North Koreans marvelled at our stupid scared faces. Now though it seems, the pranksters over at team NK have stepped their mischief up a gear. Seemingly upset, that the have been losing YouTube views to the likes of al-Qaeda. They are now using cutting edge video graphics to once again scare the stupid shit out of our stupid bodies.
☛  Watch Next: North Korean Assassin Caught In South Korea With James Bond Type Weaponry
[yframe url='http://www.youtube.com/watch?v=DX_X-50Q5do']
 
The video features an awesome sound track and apocalyptic scenes lifted from the insanely popular Activision game Call Of Duty. In it, we see a North Korean man, contently dreaming of a rocket blasting off and then coming down and destroying an American city. The on-screen text boasts that "Somewhere in the United States black clouds are billowing" – a clear dig at California. It goes on to boast that the sleeping man's dream will "come true" before showing a space shuttle flying off into space, to find better worlds to colonize because Earth is crap. It's a big "fvck you" to America basically, which it sees as having stolen it's ideas for 9/11. It's a bit like when gypsies call each other out for fights using old VHS video cameras. Or when rappers diss each other on MTV. North Korea has raised the bar and the rest of us eagerly await Obama's video response. He'll have to get his best guys on it though, because the people over at team NK clearly have the upper hand.
☛  Check This Out Next: Kim Jong Un Gets New Bird