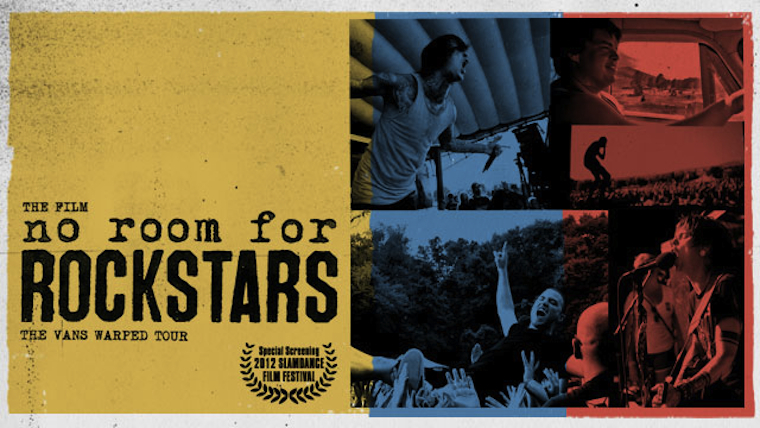 I partied a bit too hard at the Andrew WK show a week or so ago so I spent my Friday night watching this documentary about life on the Warped Tour. If you don't know what the Warped Tour is it's basically a travelling punk rock summer camp that goes all over the United States for two months. I've got friends who have played and they say it's a lot of fun, but also pretty brutal because it's a fvcking 60 day tour in the fvcking summer in the boiling hot sun. So you can tell it would probably be a good subject for a documentary.
No Room For Rockstars features interviews with the musicians, crew and fans of the travelling punk rock extravaganza and follows a bunch of separate storylines as it progresses through the whole of Warped Tour. You see Mike Posner – who for some reason is playing Warped Tour – go from playing to about 150 people a day to about 4000 as he blows up and has a number one album during  the tour, a hardcore band called Suicide Season missing their family and a band called Never Shout Never struggle to align their roots with the commercialism of the Warped Tour. Perhaps the most heart warming story though is that of a band called Forever Came Calling, who aren't actually on Warped Tour but are following it around the whole country in a fvcking van (most bands on Warped get buses) selling CD's outside every date to try and make a name for themselves. And boy, are there some highs and lows in their story.
You also get a bunch of scene stealing cameos from bands like the Bouncing Souls, Pennywise and Sum 41 as well as a few nice interviews with some of my friends like Fake Problems, The Swellers and Anarbor. None of them are really in it enough to shine though, although Derek Perry gets a couple of great lines. Of course he does.
Here's the trailer below and go HERE if you want to buy it. Yeah you have to buy it off iTunes, I couldn't find a torrent for it. That sucks, but it's a pretty awesome documentary if you're into punk rock (or the Warped Tour side of it at least) and well worth 8 pounds. Even if you're not interested in punk rock or touring it's still a pretty great watch, so maybe look out for it late night on channel 4 sometime.
[yframe url='http://www.youtube.com/watch?v=PYErZ7Tkt4A']