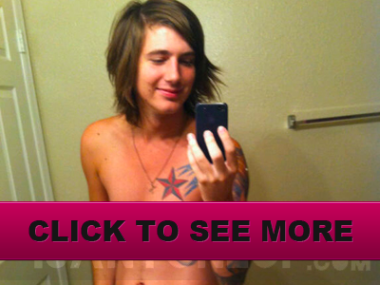 I don't really trawl around tumblr that much but it seems like a lot of people do (like Jerkstore for example with some of his tumblr finds – sad stuff on the street and girls that look like skrillex) as people just seem to love looking at pictures of stuff. I recently stumbled across Is anyone up? though. It seems like it's already a pretty big deal (you know, 34,000 followers on the is anyone up? twitter) but I don't know how many people know that stuff like this exists so I figured I'd bring it to your attention because it's pretty hilarious, despite being pretty crass, trashy and lowest common denominator. Still, I guess that's what the internet is for right?
Anyway, is anyone up is basically a tumblr/website that allows you to submit noodz anonymously. Ok, nothing great about that, you can see that pretty much anywhere on the internet. However, what does make it stand out is that the dude managed to get noodz (and the gross sexting that was involved with them) from people in bands who have been sending noodz to young girls trying to fvck them. And I'm not talking about dudes in shitty bands that play your local dive bar (although these are included – I'm talking big time noodz of people from massive emo/punk bands like A Day To Remember, All Time Low and Brand New. Obviously you can only believe stuff like this so much but the popularity of the site (it's even got it's own urban dictionary entry) proves that there's an audience for this kind of shit (of course there is) and that there must be some kind of legitimacy to it, otherwise so many people wouldn't be into it, right?
If you want to check it out head over to isanyoneup.com
UPDATE: IsAnyoneUp.com has been shut down.