Valentine's Day is always a hard time of year when you're single and even harder when you're still feeling bitter about the demise of your last relationship, so with that in mind it's no wonder that company's are coming up with novel ideas to try and make you feel better and claw your hard earned cash away from you.
Images VIA
The most novel of these comes courtesy of Hemsley Conservation Centre who are offering you the chance to name a cockroach after your ex for the low price of £1.50. Here's the official line from the Centre: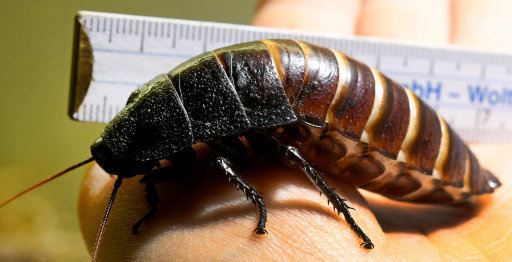 For those that don't quite require revenge, there's another way to make you feel better about getting back at your ex this Valentine's Day.

We are offering the chance to name a cockroach in honour of your worthless ex-'someone' on this special holiday of love.

We are highlighting these 'bottom of the barrel' creatures through our 'name a cockroach programme' (we think adopt is a little too strong, after all – you probably don't want to adopt your ex) to raise money for our projects at the zoo.
Pretty swell right? The names of the cockroaches will be proudly displayed on the plaques in front of the enclosure so everyone will see that one of them was named after your ex as well. Perfect – can see the Centre really raising a lot of money from this initiative. Hopefully they've got enough cockroaches to deal with demand.
For more of the same, check out this horrendous inflatable cockroach. Rank.