A 68-year-old mother has opened up about her unique bond with her adult daughter, sharing that she licks her awake 'like a puppy' every morning.
In a clip from new TLC series sMothered – all about exploring extremely close relationships between mums and their daughters – Marcia is seen creeping into 21-year-old Alena's bedroom before tonguing her face into oblivion.
She makes a bunch of slurping and slobbering sounds as she declares she wants to "lick her all up" and what's more – Alena absolutely loves it:
I love it when my Mamma licks me, it kind of makes me feel closer to her because we're doing something funny and out of the ordinary. It's a thing we do every single day!
Marcia adds:
She kept pestering me for a puppy and I couldn't get her a puppy. So I turned into the doggy. Alena tastes pretty good and all sweet, I just want to eat her all up!
Marcia adopted Alena, who suffers from an enzyme deficiency, when she was a toddler, and they've since become inseparable. They also enjoy playing Tag together, with the one doing the running getting licked all over when they're caught.
When I catch my Mamma I do all my kissy-poos and I kiss her all up. She's very kissable!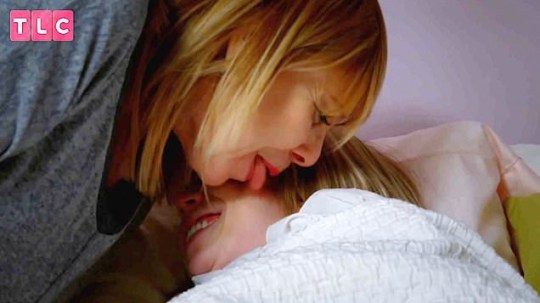 O…K then. Great to see mum and daughter with such a tight bond but at the same time – more than just a little bit creepy. Can you imagine if this was a father licking his daughter awake like a puppy every morning? Somehow I think that'd be an episode of Crimewatch rather than an episode of sMothered (or whatever the patriarchal equivalent would be called).
What's also weird is that you'd think this would be a private matter between mum and daughter but nope – mum thought it would be best to go on national TV and let the world know she licks her adult daughter awake every morning. Creepy, very creepy.
On the same show, we were also introduced to a 55-year-old woman who showers with her 19-year-old daughter every day. That's not weird, is it?