The other week some angry, sexually repressed types from Lebanon threatened Mia Khalifa after she celebrated becoming the #1 most searched adult film star on the planet and this week, they're giving Miss Lebanon Saly Greige grief for taking a photo beside Miss Israel Doron Matalon at the Miss Universe contest.
Greige has faced an avalanche of criticism from her native Lebanon since the photo — which is merely four women standing next to each other – appeared on Instagram. Some even demanded Saly be stripped of her Miss Lebanon status.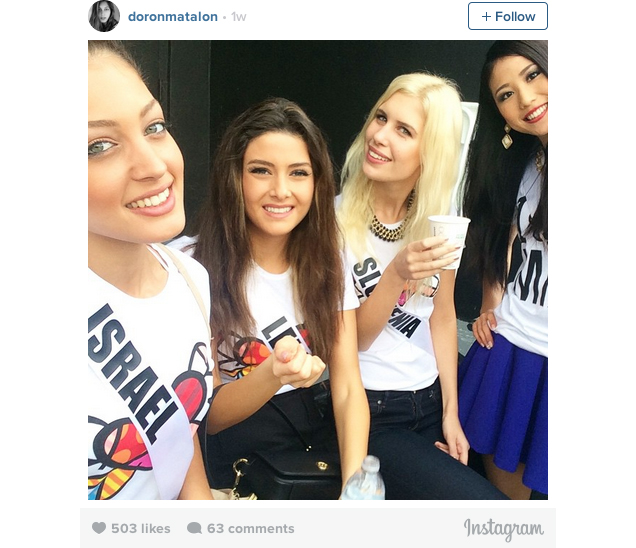 Did Greige stand her ground and assert she'll take selfies with whoever she damn well pleases? Sadly, no – she reposted the photo with Matalon cropped out along with the following caption:
The truth behind the photo, since the first day of my arrival to participate to Miss universe, I was very cautious to avoid being in any photo or communication with Miss Isreal, who tried several times to take a photo with me.

I was having a photo with Miss Japan, Miss Slovenia, suddenly Miss Israel jumped in and took a selfie, and uploaded it on her social media.
Well that's disappointing. To her credit, Matalon kind of brushed the whole thing off:
It doesn't surprise me, but it still makes me sad. Too bad you can not put the hostility out of the game, only for three weeks of an experience of a lifetime that we can meet girls from around the world and also from the neighbouring country.
Well said. Definitely got the smarts that Miss Philippines was so sorely lacking the other year.