Corey Taylor, perhaps better known as #8 from Slipknot, has jumped on the bandwagon and releasing a Christmas song as his first ever solo song. Wow, big. It's kind of different to anything he's done before (In Stone Sour or Slipknot – I'll admit I don't know about his other projects before some nu-metallers bitch me out about it) and sounds kind of like a Johnny Cash song with a sped up punk chorus and spoken word verses. The song is called X-M@$ which is like a totally deep and relevant attack on the commercialisation of the event in the modern world, dude.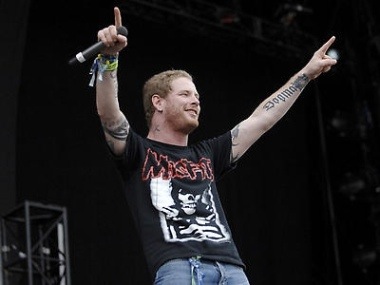 As you would expect from someone who fronts nu-metal's (or is it metal now, I forget) premier band, it's hardly very positive about Christmas and features lyrics such as , 'those carollers kept me up for hours', 'there's only one goddamn holiday I can't stand' and 'those coloured lights are fvcking infantile' and encourages the listeners to rise up against the 'corporate jolly noise.' The chorus is pretty great too: 'if i ain't drunk then it ain't christmas, you know where you can stick those jingle bells, if i ain't hammered it ain't hannukah, all you motherfuckers can go to hell'. This is pretty ironic as well as considering Taylor is meant to have been sober since 2006. I guess he just hates Christmas so much he has to fall off the wagon every year for it.
Here's the official video, Taylor is doing a pretty good impression of M.Shadows in it:
httpv://www.youtube.com/watch?v=6BqvtUmfb6U

Can it make it to Christmas number one after the success of Rage Against The Machine last year? Probably not, although I'm sure some angry long haired metallers who work office jobs will proclaim it as the best Christmas song ever and start a bunch of Facebook campaigns to get it there. The staff of Kerrang are also backing it too. Oh wait, surely those are the same people?

A better question though might be: after the excitement of last year, does anyone even care about Xmas number one/even going to listen to it? I mean inevitably there are going to be innumerable campaigns for every stupid genre of music getting there after what happened last year and it's unlikely that any one of them will be able to generate the mass support that RATM received. I guess we'll see in three weeks though.