Stin Ytterdahl of Lorenskog, Norway, says that his friends wanted to punish him for being "too active with the ladies" and gave him the option of getting either a Barbie tattooed on his butt or a McDonald's receipt on his arm. He (foolishly?) went for the McDonald's tat.
"Now I'm a living billboard", he said. "But I think all this is just fun. Maybe it won't be as fun when I'm 50 or 60 years old, but it's my choice."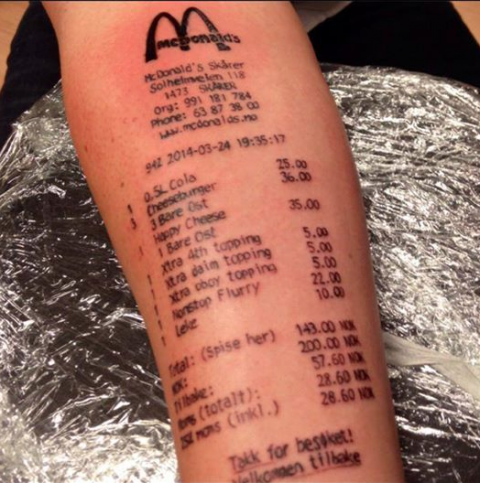 Not really sure what else to say as I don't fully understand what's going on with this guy and his friends but it seems like this is supposed to make it harder for him to pick up girls, so that maybe his friends can get some action too. Just forcing the guy to cockblock himself with a McDonald's receipt tattooed onto his arm.
But is this really going to stop Stin Ytterdahl getting the ladies? No doubt all the chicks are going to be checking out his Maccy D's tat and asking for the story on it, so if anything he's got yet another way to break the ice with them. The whole thing's just added to Stin Ytterdahl's game. By the time the girl gets to 'Nonstop Flurry' (?) he'll have already sealed the deal. Kid's a genius. Nice one, Stin's friends.
☛ More Maccy D's: Ronald McDonald Loses The Plot During Hardcore NekNomination