Like the black Nando's card and the Gregg's VIP card, McDonald's also has its own gold card – but it seems like it's a lot harder to get your hands on than any of those.
Featured Image VIA 
Those cards you seem to be able to get just from being a celebrity, but with the gold card it's pretty different. Only a few people have revealed that they're actually in possession of one, so here's a list, with the reasons if we know them:
Millionaire Warren Buffet – probably because he was a millionaire

Bill Gates – likewise

Rob Lowe – because his dad's friend invented the Egg McMuffin. He can only get free nuggets in the Santa Barbara area though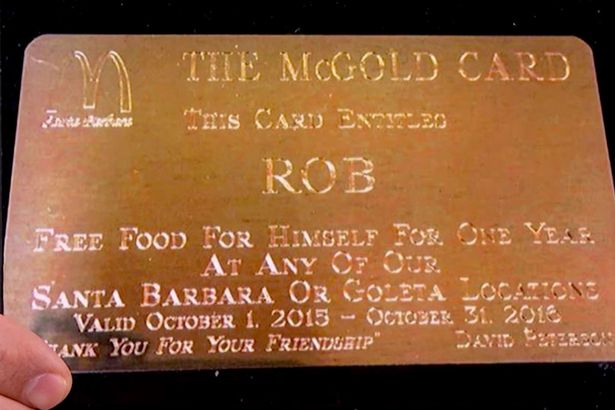 A man named Charles Ramsey – he left his Big Mac half eaten to come to the aid of three kidnapped women

100-year-old Nadine Baum – given a certificate rather than a card for being such a loyal customer, but received free food for life too
So it just seems like they're given out for whatever reasons McDonald's decides on the day right? Here's what an official McDonald's spokesperson said though:
Individual stores will make a call on the individual, for example a regular customer or local/national hero, but there is no policy in the UK of giving away food to people and no plans to introduce it.

Sorry to be a let-down, but the McDonald's gold card does not exist in the UK.
Well, that's a major bummer but at least we know how to get one in America now. If you've got any friends over there, get them to fake a kidnapping or mugging or something so that next time you go over to visit them you can get free food. Perfect. If you haven't got any friends in America though I guess you're fucked.
For more McDonald's, check out the giant Big Mac that they're releasing soon. Outstanding.