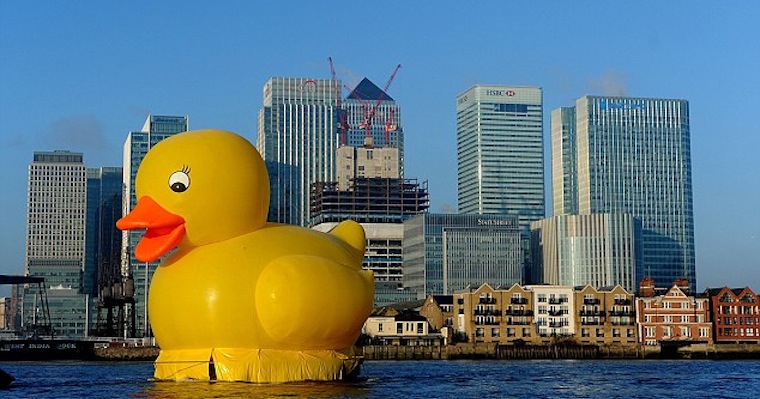 If you work in The City you may have felt like you were tripping on PCP when you looked out of your office window this morning when you saw a humungous yellow rubber duck floating up the River Thames. Do not fret, you haven't completely lost your marbles, as this massive yellow rubber duck was a marketing stunt pulled off by JackPotJoy.com.
JackPotJoy.com run those really annoying T.V. adverts that star Barbara Windsor and offer you free games of bingo for just signing up to their gambling website. Now I'm sorry but it's not as simple as that. When you register and give them your details you're then only a few clicks away from depositing your hard earned cash into their big fat heartless pockets with the hope that you might actually win a nice bonus before Xmas from their crook of a gambling website. The reality is that you're probably going to lose and even if you do win you'll just end spending your winnings trying to reach the big bucks and you'll end up digging yourself into a deeper hole that you were in before. Gambling websites are the devil's work and almost as bad as the 'crack of the gambling world' roulette machines that you find in every bookies on the high street these days. You only have to go into and bookies you're met by the low life delinquent bums who hound the machines every hour of every day. Gambling isn't cool gambling isn't classy and it will end up losing you a lot of money in the long run. Stay away.
☛ Read Next: Unluckiest Dude Turns Into The Luckiest Dude After Winning $250,000 Live On TV
The message JackPotJoy.com wanted to send out by this PR stunt was that they are a 'fun' company and not the scum of society that all gambling websites really are. JackPotJoy are running a campaign where they'll fund any 'whacky' or 'fun' ideas that you come up with because they just want everyone to have a really great and enjoyable Christmas. BULLSHIT. They want your money and this is how they make you trust them over the next bullshit bingo website that is made with one intention and one intention only, TO TAKE YOUR HARD EARNED CASH.
I may be partial to gambling before I blew all my football coupon winnings withing a couple of hours this weekend and was sent into a spiral of depression for the next 24 hours, so just ignore my gambling rants and go and do what you want, it's your money and I couldn't really give a shit.
Here are some photos of the stupid big yellow rubber duck floating up The River Thames: