It's well known that people smuggle stuff through airports every day, but it's normally drugs rolling around in someone's stomach rather than someone sticking a kilogram of gold up their butt though.
Images VIA 
This was the unusual incident that happened at Kannur Aiport in Kerala, India though recently, where an Indian man was travelling from Dubai. He was attempting to avoid the 18% tax that is imposed on gold when bringing it into the country.
Unfortunately for the guy though, airport security staff noticed that he was walking a bit funny and stopped him to perform a search on him. It was then that they found the seven gold pieces stuffed up his butt – what a sight that would be been to behold.
They announced their bizarre finding on their Facebook page, saying the following: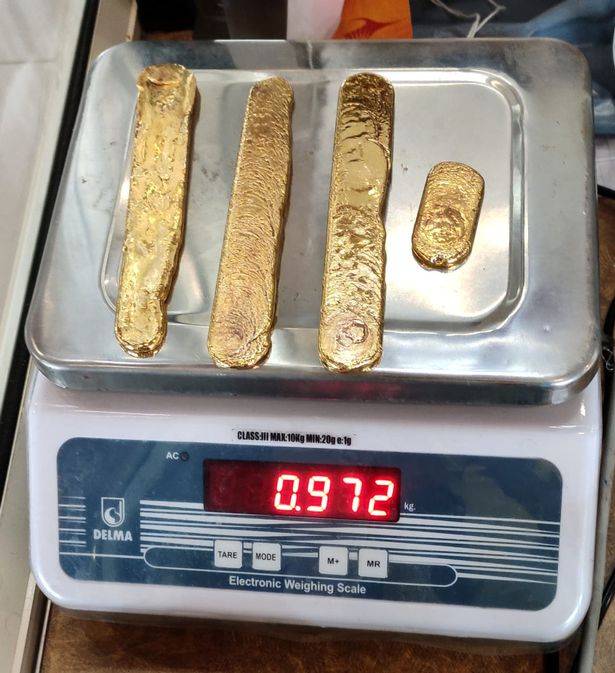 AIU Kannur seized 1470gm gold in compound form (1316gm extracted) from a passenger who arrived from Dubai by flight G8 4013.

The gold was concealed in his rectum.
Nothing like leaving the audience wanting more hey? A real artist at work there with that Facebook post.
You might think it's weird that this guy was trying to smuggle the gold back up his butt, but I've been assured that this kind of stuff is fairly common over in India to avoid that massive tax on it. In recent times, gold has been found in chocolate boxes, purses, pens, umbrellas and tubes of toothpaste, as well as in the lining of someone's underwear.
I guess because they were all found this guy thought he had to up his game and went straight for the butt. Shame it didn't work out for him, but that's not to say that it won't for others in the future. Just gotta practice that walk.
For more of the same, check out this story about a guy who almost died after sticking a shoal of fish up his butt. Not surprised to be honest.