A plasterer who filmed himself going on a racist rant at England's black players following the Euro 2020 final is really paying for his stupidity days later.
Featured Image VIA
Brad Pretty, 49, posted a video on his Facebook page in which he abused Bukayo Saka, Marcus Rashford and Jadon Sancho, using a string of racist terms and saying the following:
Where do I start, where do I start. Sick, gutted like all of us.

Proper deflated. Gotta be proud of the boys, be proud, but anyone and everyone that knows me well will understand what I'm talking about.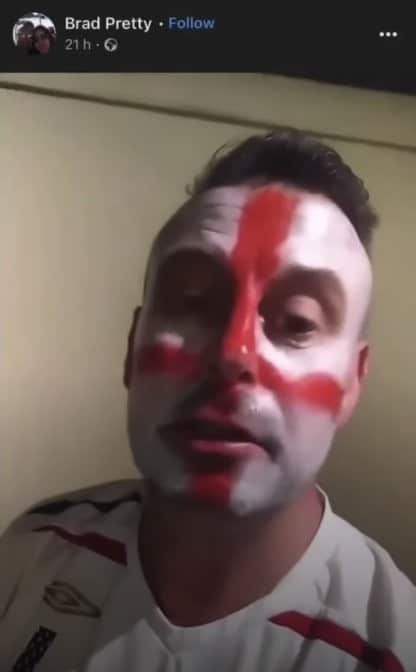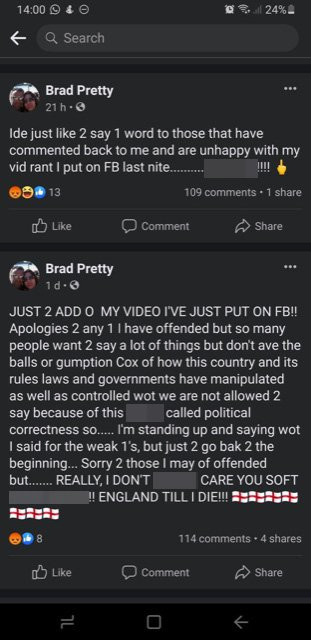 Racist Brad is so braindead that he put all this stuff out there without a hint of anonymity, and now pretty much every aspect of his life is suffering because of it.
First of all, he's been banned from his local. The pub's live-in manager told the Sun:
I was shocked when I saw the video of Brad. He is usually okay and seems like a nice normal guy.

We weren't impressed at all. He's obviously drunk and ruined his whole life with a one minute video.

If he was to come back here, we would actually say to him to stay away for a little while because we do not stand for that at all.
His friends are even talking shit about him to the papers, with one telling MailOnline that Brad isn't the 'die-hard' England and Liverpool supporter that he pretends to be:
He's never been to a game in his life.

If you showed him a photograph of Anfield, he wouldn't know what it was. And the same goes for England. He's never been to see them at Wembley, never mind abroad.
Locals in Margate, Kent, also revealed that Brad boasts about not wearing a mask and refusing to have the Covid vaccine, claiming that the virus is a conspiracy. Of course.
Pretty rants a lot against what he calls the politically correct brigade and says that they are trying to control us. He sees Covid as part of that.
Brad's company, BK Plastering, has since been inundated with negative reviews online after sharing his rant on his now-deleted Facebook page.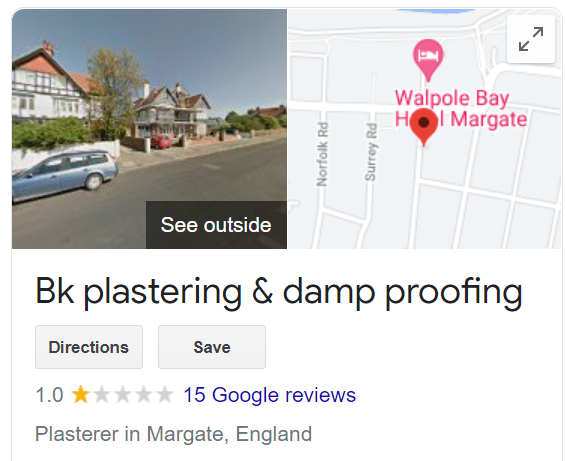 One star! Brutal.
Last but not least, Brad was arrested at his home. Chief Superintendent Warren Franklin of Kent Police said:
On the afternoon of Tuesday 13 July 2021 Kent Police received a referral from the national policing lead for Euro 2020 relating to an offensive video that had been posted on social media.

Later that day officers attended an address in Folkestone and arrested a 49-year-old man on suspicion of a malicious communications offence. He was taken into custody pending further enquiries.

Kent Police will continue to keep the national policing lead updated and will respond accordingly to any other similar incidents that may be reported to us.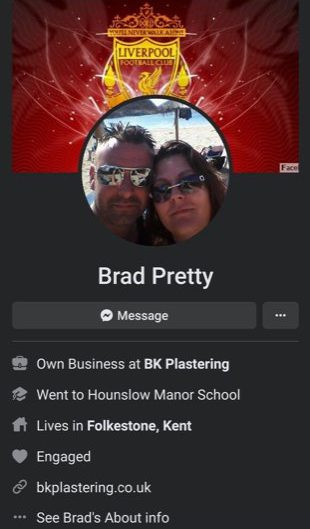 I just can't figure out what goes through these idiots' heads when they film racist rants or send racist messages online and don't even try to hide their identities. It's 2021 – what do you think is going to happen? We've seen it time and time again over the years. People ruin their lives for far less than being racist pieces of shit on social media. And now here's this guy with a St. George's flag painted on his face dropping N-bombs on video and completely oblivious to the fact that he's going to lose everything because of it. I mean I know racists are low IQ but f*ck me, how stupid can you actually get?
Anyway, it's just too bad the whole world sees English football fans in this way because it's only a minority of idiots who feel the way that Brad does.
Thankfully, they're all learning their lesson – including this 50-year-old football coach who sent a racist Tweet to Marcus Rashford and now claims he was 'hacked'. Yeah right.