Remember a couple of weeks ago when everyone thought Neil Buchanan was actually Banksy for some reason?
Featured Image VIA
I had actually forgotten about it – so many stupid things have happened this year it's hard to keep up with them – but it seems like someone didn't and was determined to take the rumour even further, after a man discovered Neil Buchanan graffiti in the style of Banksy on his garage. 57 year old photographer Allan Levy discovered the artwork on his garage in Northampton and immediately tried to verify it through pestcontroloffice.com as it also appears to be singed by Banksy, but they have so far refused to authenticate it.
Here's what he had to say about it all: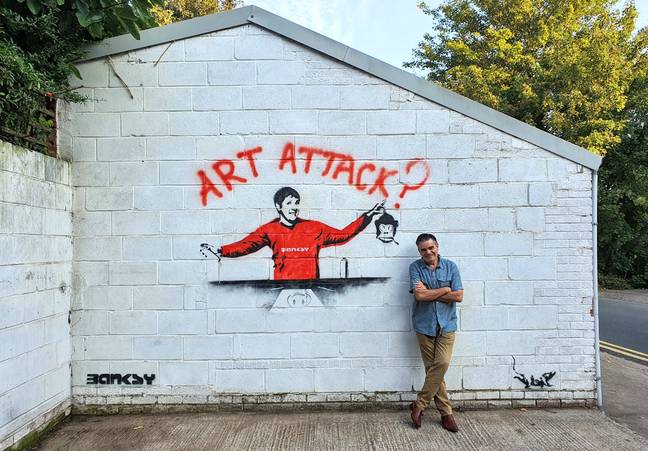 They said it would be on Instagram if he had done it, but that can take weeks. This only just happened two days ago.

They aren't really 100 percent sure it's not him so we're kind of waiting and seeing. I'm not going to do anything with it. I think street art belongs exactly where it was put. I'm a photographer myself and I very much appreciate it as an artist.

It belongs where it was made and it should stay exactly there. I'm just proud to have it there whether it turns out to be a genuine Banksy or not. But I can't help but have the attitude that I now have a Banksy in my collection – I'm very proud of it.

I was blown away when I saw it. It's certainly a great piece of art and I love street art.

It was obviously clever and well thought out, the stencilling work is extremely well done. I'd certainly like to think it was Banksy and it has been the talk of the town since.

I'd recently cut back some plants that were hanging over onto the wall. I'm glad I did, as at least the artist had a clear space to work with.

It's really good, it's such a lovely piece – this is beyond anything I could have dreamed of.
Yeah, sounds like Allan is going a bit overboard there but I suppose if you live somewhere like Northampton then there's not too much to get excited about is there? I really hope that it is an actual Banksy and the way Pest Control Office aren't confirming or denying it kinda makes me think that there might be some kind of truth in it. It's such a troll move and definitely a Banksy move, so it wouldn't surprise me. Just have to wait and see I guess.
For more of the same, check out this video that apparently shows Banksy at work. Could it be?