It's probably fair to say that most people were disappointed by the solar eclipse today due to the fact you couldn't really see anything due to all the clouds, but spare a thought for Jakub Moravec who travelled from Prague to a remote Arctic island for the event – only to miss it and end up in hospital after a polar bear attacked him.
The polar bear attacked the 37 year old man after it had ripped through his tent on one of the remote Norwegian Arctic Svalbard islands. Thousands of tourists flocked to the islands as it was one of only two places on land where the eclipse would be fully visible.
Another Czech woman who had travelled with Jakub named Zuzanna Hakova recounts the story:
Featured Image VIA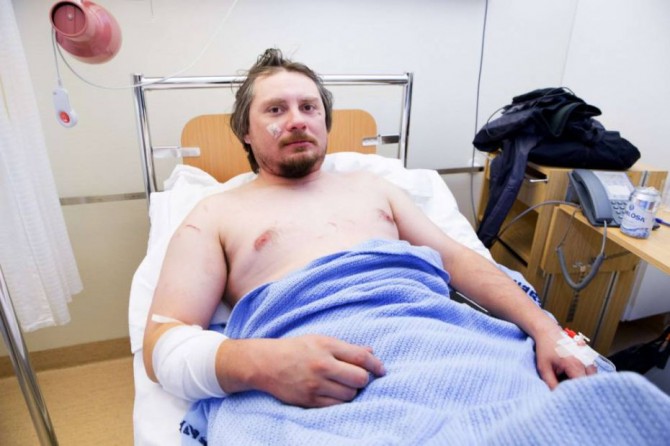 We woke to shouts of "Bear! Bear!"' and saw the bear going straight for Jakub's head.

We had a rifle on the outside of each tent and we also had a revolver in our tent.

The ones being attacked had no chance of getting their weapon, so my mother took her revolver and shot at the bear three times.
What a baddass mother. Jakub is now recovering in hospital in the capital city of the islands which is weirdly named Longyearbyen. He suffered severe injuries to his face and arm, but above everything else is completely gutted to have missed the eclipse. Hey, me and you both brother, but I suppose I didn't travel thousands of miles, spend loads of money on it and get mauled by a polar bear so he probably has a bit more of a right to be miffed than me.
The bear itself was tracked down by the authorities and killed. Not sure how they knew which bear it was (I assume there are a fair few wandering the islands over there?) but hey we'll believe them. Here's its supposed carcass:
Images VIA