I think it's been almost exactly a year since we were first interested to Joe Exotic and the troubled cast of characters featured in 'Tiger King' and literally the whole world was simultaneously talking about him because we were all under the restrictions of lockdown with nothing better to do.
Featured Image VIA 
Since then, there have been a few back up shows and a bunch of television/film projects announced about Joe Exotic but I reckon that a lot of people will be the most excited about the fact that Louis Theroux has just come out and told everyone that he'll be working on a feature length Tiger King documentary. Of course, I think most of us know that Louis actually interviewed Joe back in 2011 for a show he was filming about 'America's Most Dangerous Pets' and it turns out he has loads of extra footage from that time that he's being going over for this new documentary.
The rest of the program will see Louis talking to some of Joe's friends from the past, his prison support team and some of his nearest and dearest. Here's what he had to say about it all: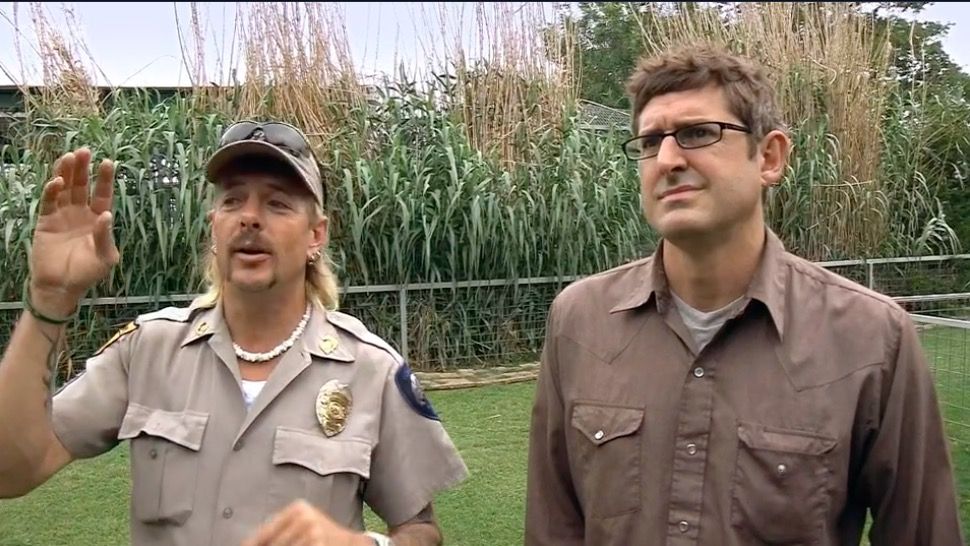 This is one of those quintessentially American stories, taking place in the heartland of Oklahoma, with a cast of characters almost too colourful and larger-than-life to be believed.

I spent eight or nine days filming at the park back in 2011, over the course of three separate visits.

I'd forgotten how much we shot until I went back into the footage during lockdown.

It's extraordinary how much was there.

Since then the story just got stranger and bigger, and in going back at the end of last year I uncovered a real-life drama that took me in directions I never could have expected.
Wow. That really does sound like it's going to be the only 'Tiger King' follow up experience that's going to be worth watching.
From what Louis is saying, it kinda sounds like it's all filmed, but obviously he'll have to cut it etc so it could take a while before it's on our screens. The fact that they're even announcing it must mean that it's somewhere near completion, so hopefully we'll be seeing it in the autumn – just in time for the 'final' lockdown to begin.
For more of the same, check out everything that has happened since 'Tiger King' first hit the airwaves. There's a hell of a lot to go through.