A tweet by Sir Alan Sugar last week offended one person so much they filed a complaint to the police. Now Lord Sugar is being investigated by police for a "hate incident".
Here is the offending tweet: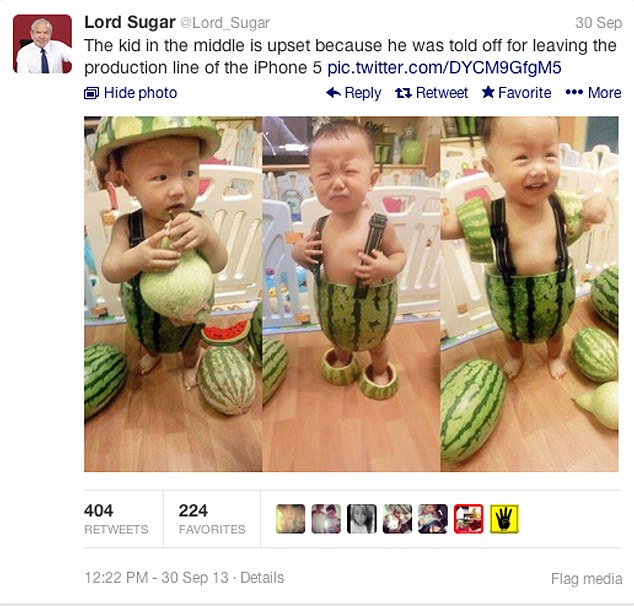 Before making her complaint to the police, Nichola Szeto from Liverpool tweeted: 'Everyone have a look at @Lord_Sugar racist tweets. My family are chinese you horrible t[***]. I thought Racism was illegal @metpoliceuk.' The tweet has since been deleted.
Does Lord Sugar hate Chinese people? Did someone have a "sense of humour incident"? Do the 404 people who re-tweeted it also hate Chinese people? Are any of them Chinese? Is this kind of thing ever funny? Hopefully Merseyside Police can answer all these questions during their investigation because clearly this is serious business.
Lord Sugar hasn't tweeted on the matter yet, but here's the kind of thing you can expect:
Next PR stunt for @officialtulisa "My cat died of exhaustion and heart attack". SUN headline 'Tulisa agonises over her worn out pussy'

– Lord Sugar (@Lord_Sugar) November 25, 2012
@bethanyyaliice shut up you idiot

– Lord Sugar (@Lord_Sugar) November 24, 2012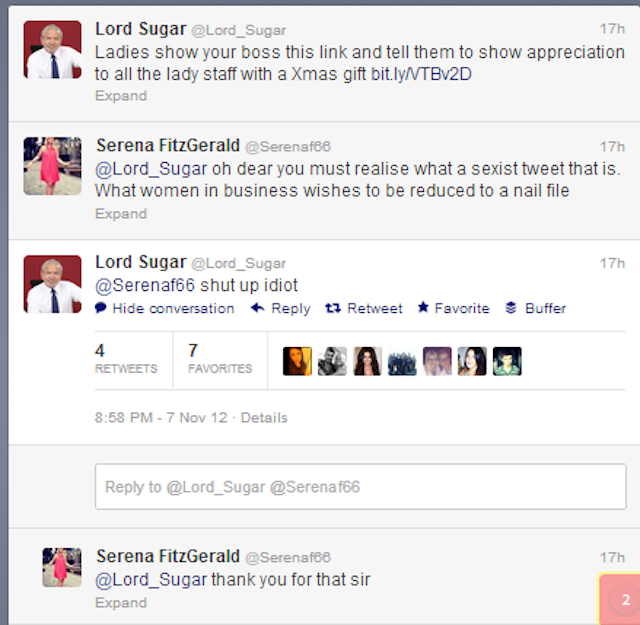 ☛ Read Next: Donald Trump Gets Absolutely Rinsed On Twitter