If you haven't been reading about our journey so far, then check out previous updates here.
Day 41. By this point in the trip we were all used to waking up in very public places, and going about our morning routine with nosey Americans looking on totally bemused by our activities. Today was no exception, with us waking up in the middle of a park. Where we took it in turns to brush our teeth behind some bins. Classy.
Before we started this trip we had the idea to try and break the world record for the most number of miles travelled in 24 hours on a skateboard. That record is 280 miles. We had scheduled in a date to attempt the record in Omaha, Nebraska. Today was a test. We would skate 100 miles in what we hoped would be under 10 hours without stopping.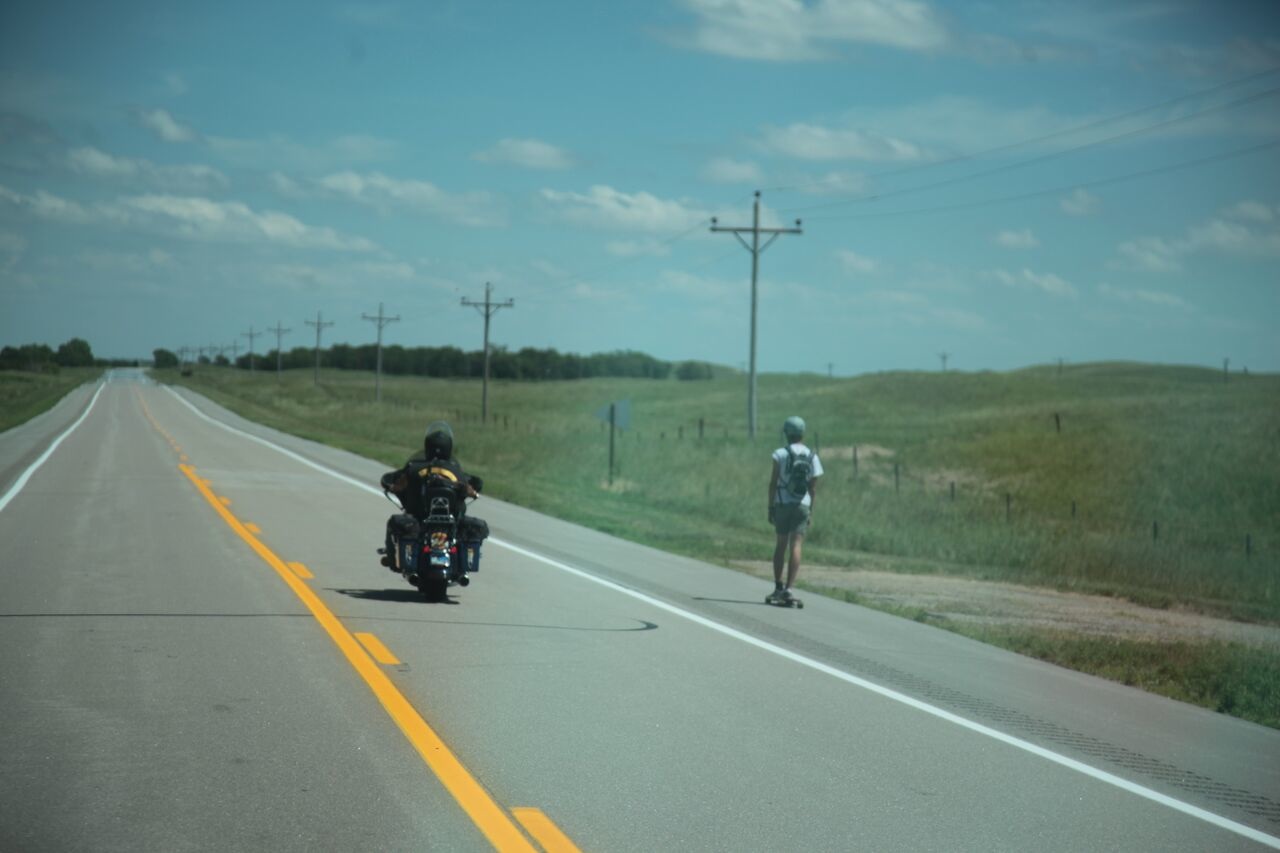 Tom wouldn't be joining us however, he would be heading to hospital. The pain in his knee was now preventing him from skating pretty much full time and so was going to get it checked out.
So we sat down, and for the first time on the trip spent 25 minutes properly stretching, then we hit the road. Immediately going in the wrong direction, having to turn around after only 2000ft.
We pushed on all morning, only stopping once to pick up a small turtle we had found in the road. This one was alive, however out in Nebraska we would constantly come across dead ones, some of them huge, just crushed in the road.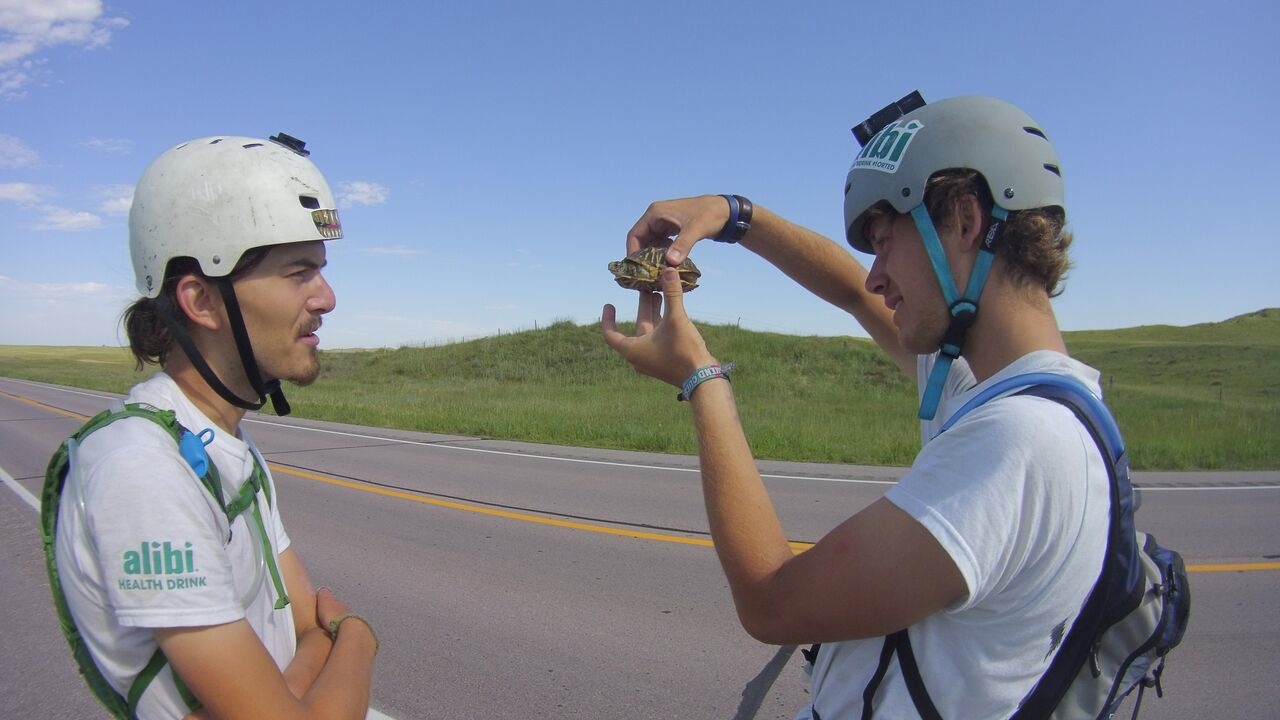 We pressed on, through the midday heat, the Van caught up with us and drove alongside us throwing us sandwiches and water without stopping. The news about Tom's knee was good, he had been prescribed a load of meds, but we weren't to know at this point he had been totally mis-diagnosed by the American doctor. Brilliant.
We had done about 80 miles when it hit me, I suddenly felt ill, and had an intense headache behind the eyes. I started to lag behind the others, taking the opportunity to sit down on my board as we hit the downhills. We finally made it to the finishing point, and in under 10 hours. The record was starting to seem possible, and I hobbled into a McDonalds to bury my troubles at the bottom of a sweet chilli chicken wrap.
That night we had a campsite offer us a free pitch, and when we arrived the manager came running out to us, and handed us all cinema tickets to the small cinema next door so we could see Minions.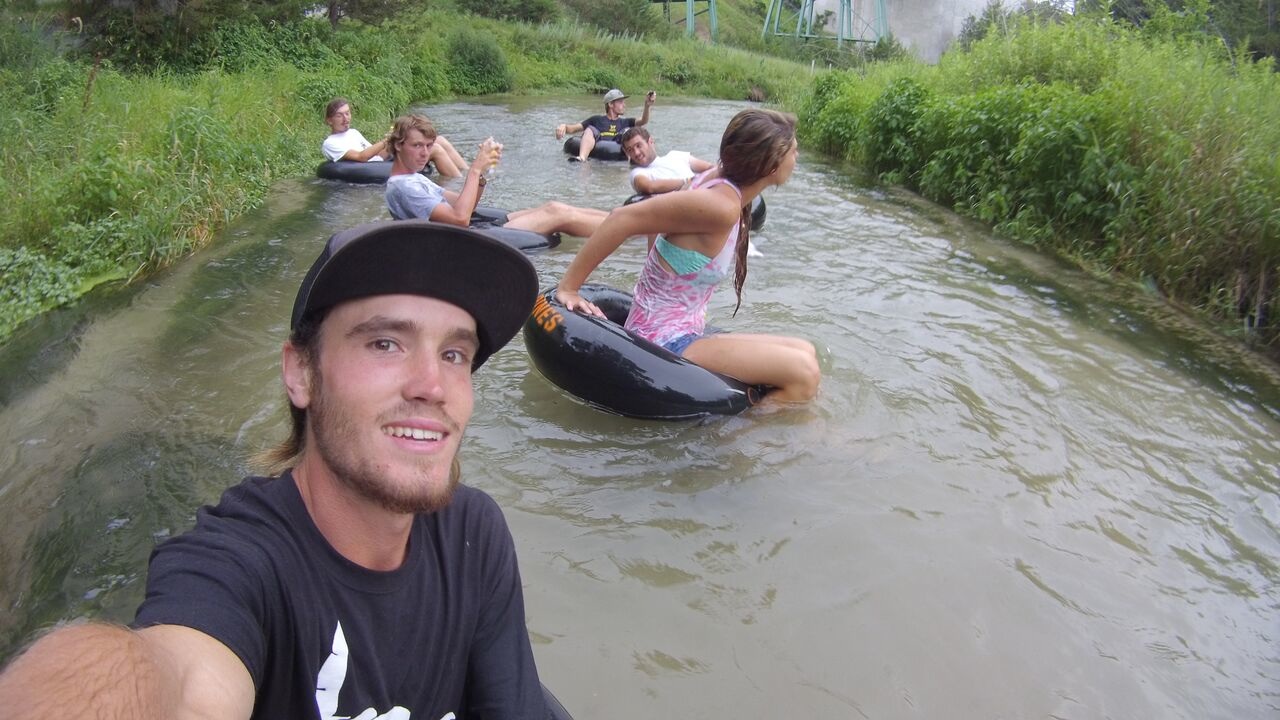 The next day was no different, all the scenery looked the same, and it literally felt like we weren't moving at all. That evening we stayed in a cabin, offered to us by some locals for free. They let us fire their guns (a first for all the brits) and insisted we go 'tubing' and dropped us at the top of the river with a load of tractor inner tubes. What followed was one of the most relaxing 30 minutes of my life. Floating down a river, without any tarmac in sight.
The next few days all blended into one, all relatively un-eventful, all on the same road, all with the same scenery. It was starting to drive us insane, and despite the huge progress we were making as a result of the good, flat, straight roads we were starting to get sick of all the corn, cows, and grass.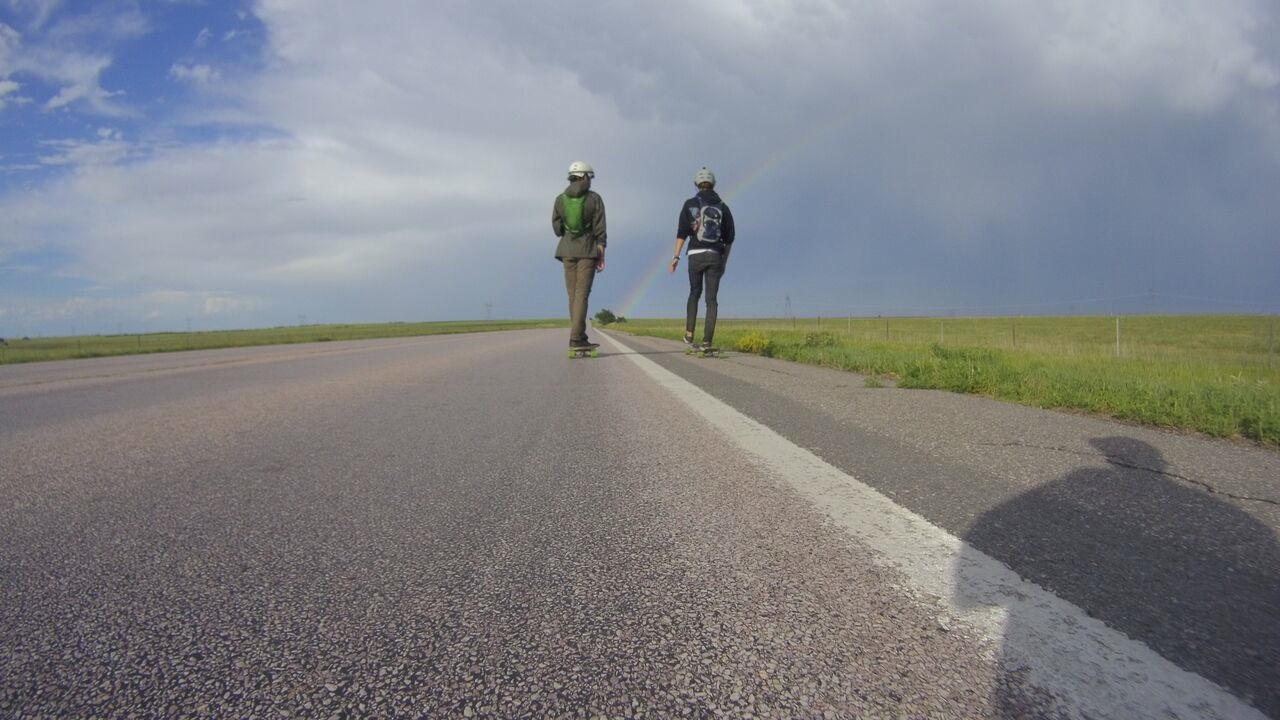 Day 46. We were 88 miles from Omaha, the small city where we would be able to rest up for a few days before our record skate attempt. And we were even more excited when we heard a boutique hotel had offered to let us stay with them!
We got out on the road relatively early, smashing out the first 15 miles no problem at all, until we hit some bad road surface, then WHACK. I hit a few stones and was sent flying off forwards (without much speed) and fell like a rake flat on my face. Immediately after hitting the ground I felt myself beginning to pass out and mumbled to David 'grab the camera'. I then fell into a world of colours, and voices. In the real world I was lying face down, with my hands shaking and my eyes open.
After what felt like forever I woke up very confused, still face down. My hands cut up from the gravel, and a few strangers who had stopped to help us. We thanked them for their concern and ushered them on. Despite now feeling very ill we had to walk for a mile to the next town, and use a phone from the gas station to call the Van.
They arrived in minutes and took us up to where they had been waiting at an ice cream place. It was unanimously decided (to my protest) that I wouldn't be aloud to skate anymore that day, and we used just over 70 of our now precious contingency miles to reach Omaha.
Please support the Teenage Cancer Trust here and subscribe to our Youtube Channel here and look out for the next update.

Check out some photographs from our journey on the slideshow below:
(Scroll left or right with the arrow keys)