If you haven't been reading about our journey so far, then check out previous updates here.
We left Chicago with a renewed sense of excitement, although we roughly had another 1000 miles to New York we knew that it would be the next big city that we would be reaching. The skate out of Chicago was relatively straight forward and we stopped off on a break to swim in Lake Michigan.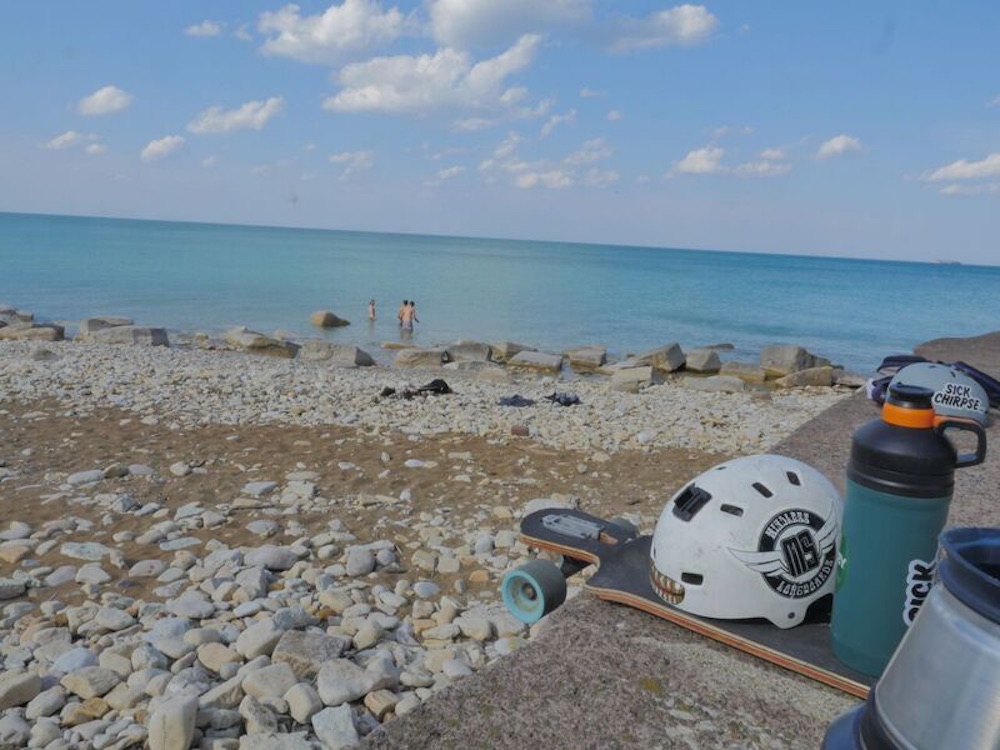 The day finished late in the evening not far outside of a town called Gary, (a total shithole) that happens to be the birthplace of Michael Jackson. Our evening finished at a local gas station with a local crackhead serenading us, performing a song he wrote about smoking crack, which was actually pretty good.
Day 59, there was now a little bit of distance between us and Chicago, this is when we came across our first Amish community. This was great, mostly because they have almost a whole extra lane for the Amish buggies that we were able to skate in and avoid the traffic.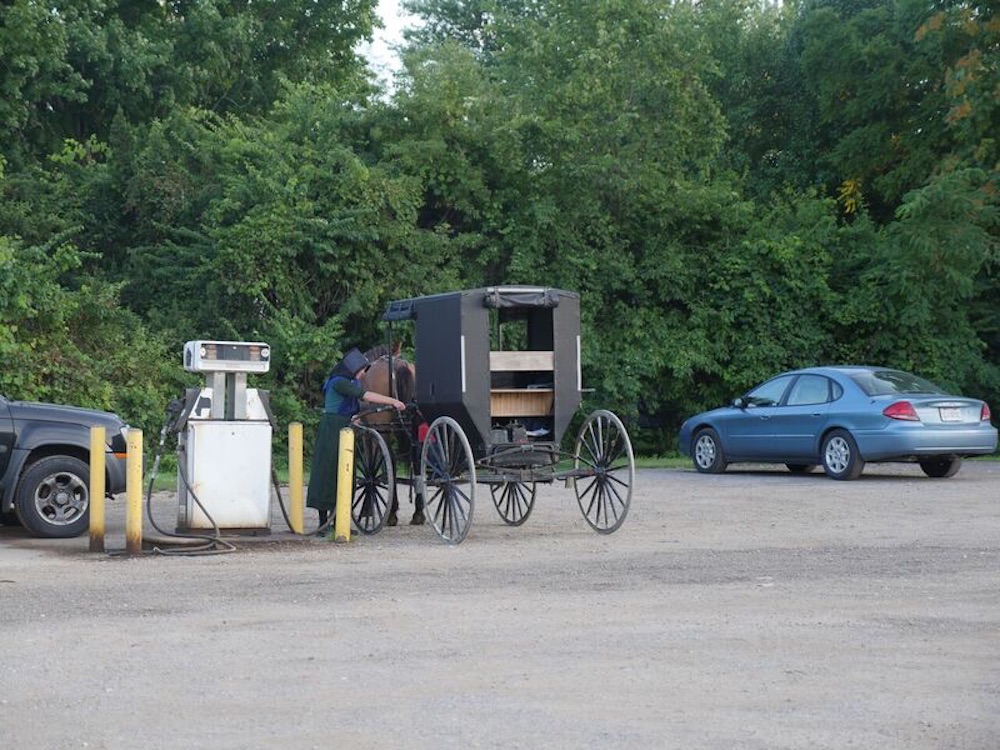 That evening our route took us straight through the middle of some high school grounds. There was a full marching band of around 100 people rehearsing and we had to skate right out in front of them, and to my sheer joy David tripped over, his board running ahead of him, rolling into some equipment and the classic awkward British apologising ensued, all of it on camera.
The next day we woke up early to wash some clothes in a pretty classic US motel that had agreed to put us up for the night. We set off at a good time, motivated further when we crossed into New Jersey. After 55 miles of skating we were delighted to hear that a 5* seafood restaurant had offered us a free meal. When we arrived we couldn't have been more out of place, the people around us were dressed in all kinds of fancy suits. They were incredibly generous, giving us a $400 meal for free, and the food was out of this world.
Day 62 we started late. Progress was really slow and I could feel that both myself and David were really struggling for motivation. We weren't really talking to each-other, I wasn't filming a huge amount, and all the roads looked the same. Not a good place to be.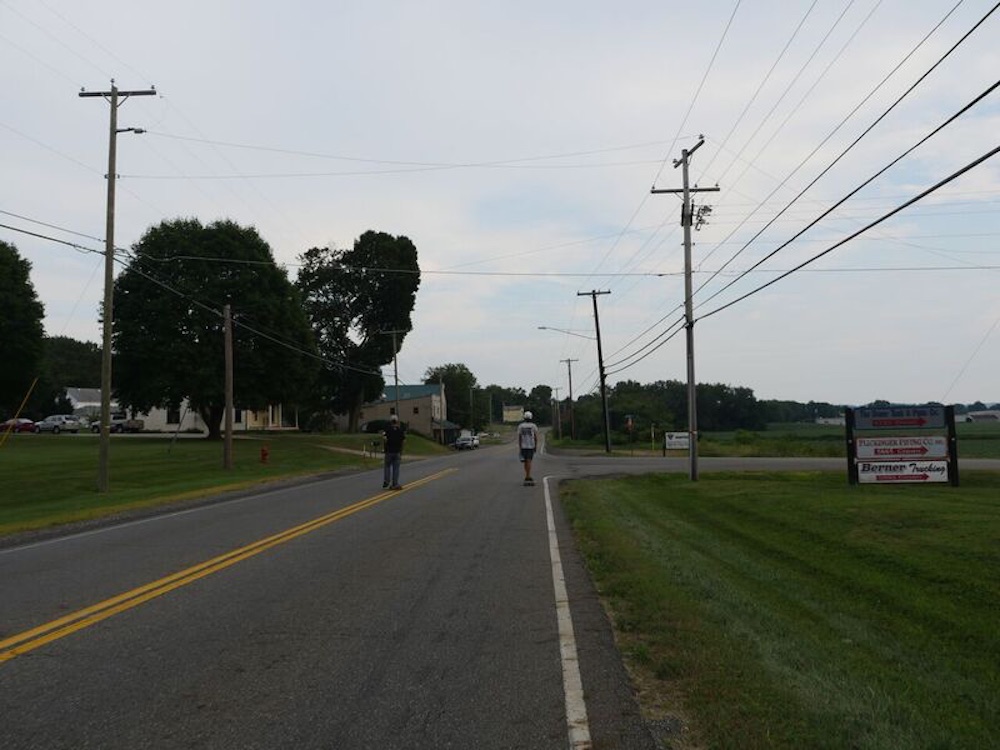 David fell into such a trance out on the road at one point that he didn't immediately notice when he was attacked by a dog that then turned on me, before being called in by its owner. Our mood was lifted slightly that evening when the fields around us lit up with fireflies, but neither of us were feeling brilliant, we were honestly just sick of waking up everyday, pushing 50 or so miles, then passing out.
Day 64 was the day we were due to arrive at Tom's. He had left just before the 24 hour skate to stay with some family friends while his knee healed, so we were really excited for Tom to join the team again to lift our spirits. We started the day out early on a quiet highway, despite all three lanes being pretty much empty, we still got shouted at by an old dude in his truck. We took a break as the temperature started to rise by a really beautiful lake to chill out and then pushed on, another 35 miles to go.
That afternoon we met some CRAZY southerners. They lived with their 'yard' facing the highway and were having a family BBQ out in the sun. They invited us over the fence, gave us beers, and then proceeded to dress us up, forcing us to pose with the confederate flag, something they continually insisted was not racist, followed by a few racial slurs. Other than that they really were lovely.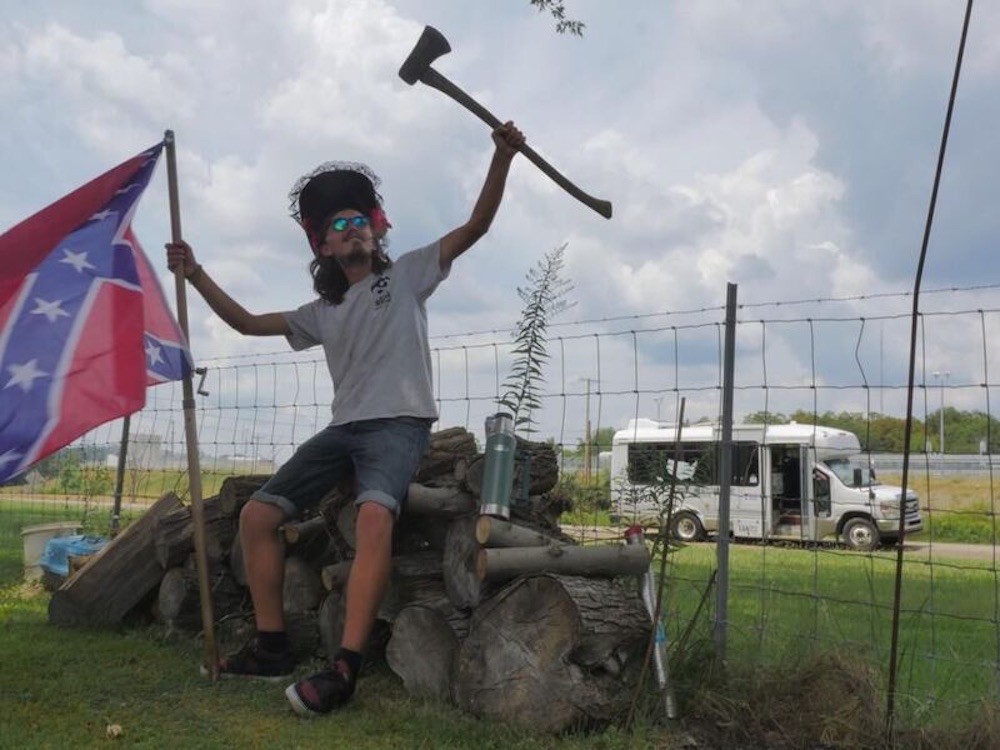 We finished the last 15 miles with some really enjoyable hills, steep but not too steep. When we arrived where Tom was staying we were greeted by an amazing homemade meal, somewhere to wash, and fresh sheets. I had almost forgotten by this point what it was like living in a normal house, and clung onto the home comforts, even with the knowledge in the back of my mind that they would be ripped away the next day.
The following morning Tom had some bad news, his knee hadn't healed, and he wasn't coming with us. I understand why he made this decision but was gutted at the same time. Of the four of us who flew out to the USA only two of us now had a chance of making it to New York, and we still had another 550 miles to go.
Please support the Teenage Cancer Trust here and subscribe to our Youtube Channel here and look out for the next update.
Check out some pictures from this stage of the trip in the slideshow.
(Use the arrow keys to move left and right)