If you haven't been following our journey across America, then check out the previous updates here.
Leaving Tom's was sad – it was now a certainty that if we did make it to New York City that only half the Brits would have made it across.
Day 68 and two relatively uneventful days had passed since leaving Tom's, with nothing of real interest other than skating through Pittsburgh along one of the smoothest cycle paths we had come across.
We started the day early, instantly hitting some pretty poor road surface and unpleasant hills. Despite being so close to NYC it just didn't feel real. We were completely battered, extremely underweight and just sick of having to push 50 miles a day after 2 months on the road.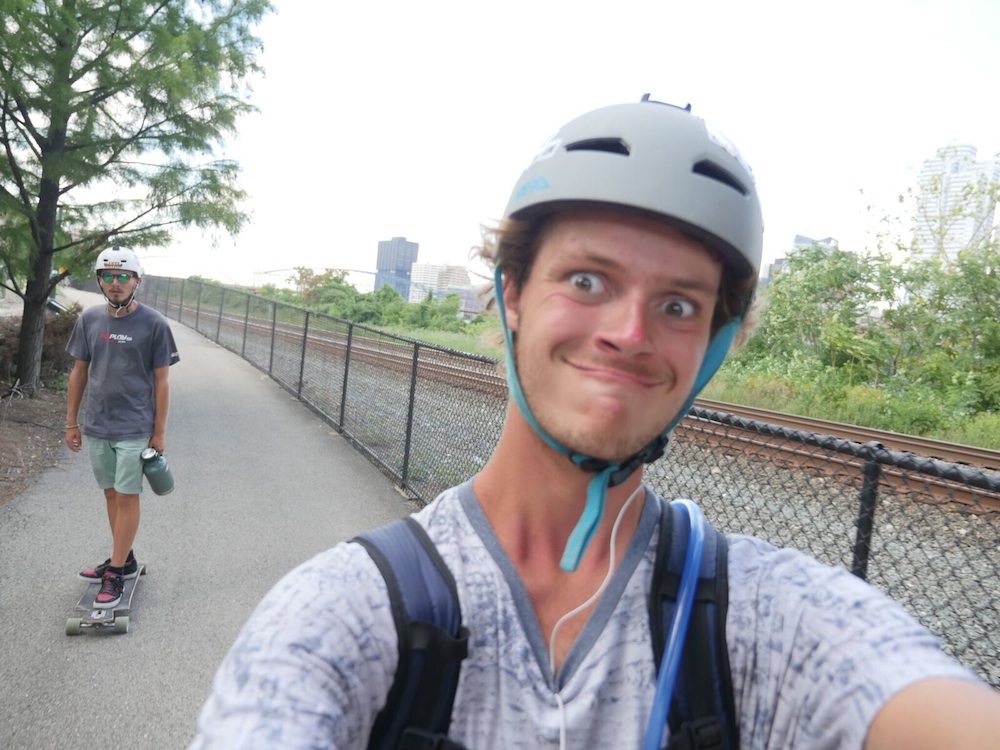 Pulling up at a Denny's after a few hours we decided to take a rest and try to lift our spirits, packing ourselves with warm tea and a cooked breakfast. The hills then got worse – much worse. Impossible to push up and with a lot of traffic far too dangerous to skate down, we were forced to walk for hours. When we finally made it to our checkpoint where we would be stopping for lunch David was completely spaced out. Sat in the bus preparing to hit the road again it seemed he couldn't take it any longer.
At this point it was the Americans that really picked us up. They were usually quite unsympathetic of our woes (which was good), but they all took a different tone here and before we knew it we were back on the road. 8 hours later we arrived in Ohio Pyle state park and with 45 miles behind us, we spent the evening sat around a campfire.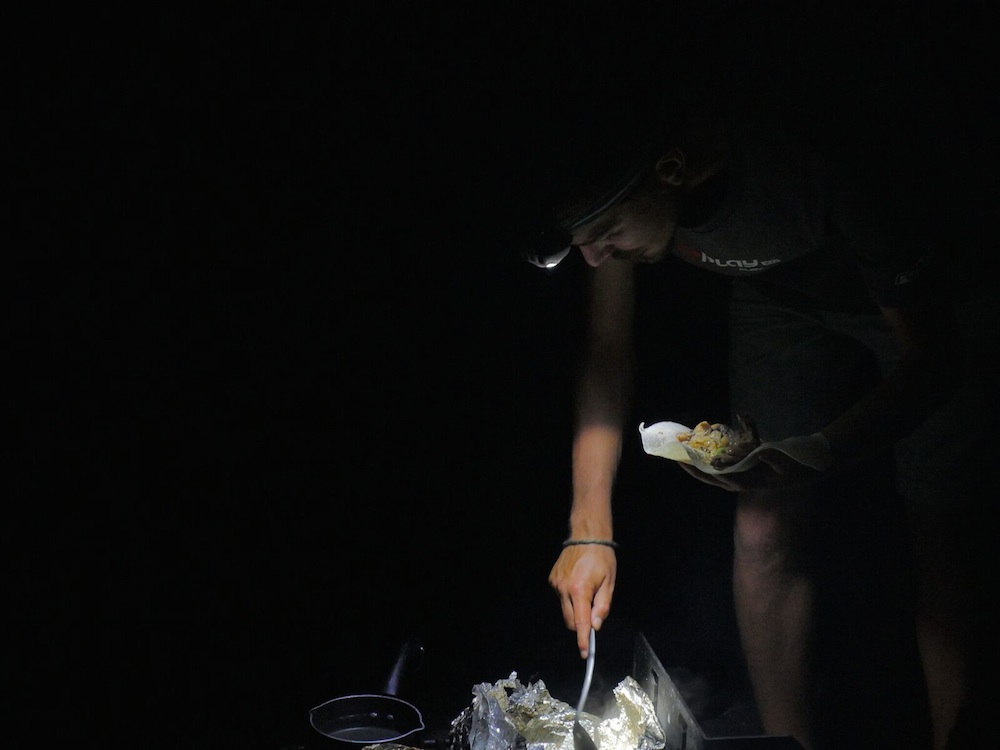 Day 69, this was when things went seriously downhill (no pun intended), the hills got worse and it became literally impossible to skate. NYC felt so unbelievably close yet still impossible to reach. The day was a constant battle to keep walking despite not having a full rest day for 3 weeks – it took us 14 hours but we made it 36 miles. That night me and David made a deal, we would stop for the night early to rest but the next day we would make it to 60 miles no matter what.
Day 70 we woke up parked in the car park of this gas station which was packed with US military hummers. Pushing out we were pleasantly surprised and our spirits were lifted massively as the roads were now smooth, skate-able and we got to enjoy a lot of enjoyable downhill. We made a huge amount of progress and skated 40 miles with ease. That was until the evening – we were told we had 3 mountains to cross before we were really out of the Appalachians. Shoving various snacks and extras to keep us entertained at 8pm David and I prepared for the 23 miles ahead of us.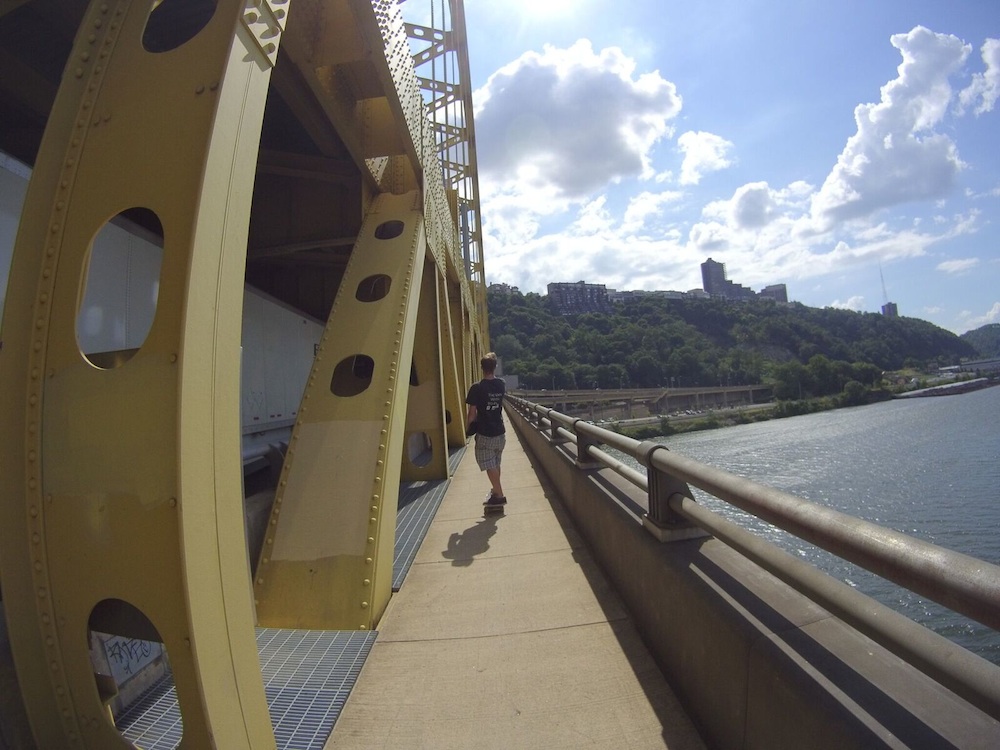 The evening started OK – we had a good 5 mile skate but then it wasn't long before we were forced to walk. The bus had taken a different route to the motel because the hills were too steep to drive and so we were on our own for the night. We made it over the first two mountains taking regular snack breaks and such, but at 3am it was crossing the 3rd mountain that really knocked us back. Our brains started to fall apart, David started to snap every now again, something he would do and then swiftly follow with an apology.
Finally 2 miles from the motel he broke down, I was filming a vlog at the top of a small hill and I heard him cry out. I put the camera down and walked down the hill. I found him at the bottom double bent over his longboard, I picked him up and we hugged. It was all a mess, we were behind, not making enough progress, underweight, deprived of sleep, hadn't had a rest day for over 3 weeks and our chances of getting to New York City seemed to be fading.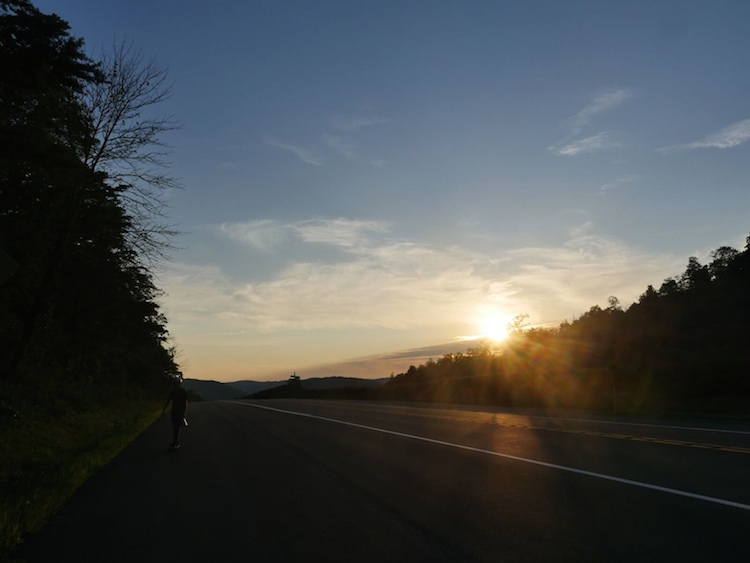 We spent a few minutes talking and then pressed on. 6:30am came and the sun rose, we staggered into the hotel room, absolutely destroyed and fell asleep instantly.
Although we wouldn't be getting comfortable, we couldn't fall behind anymore, we were only 350 miles from New York City and had 50 miles to catch up. So we graced ourselves with 4 hours rest and then hit the road again.
Check out some pictures from this stage of the trip on the slideshow below.
(Use the arrow keys to scroll left and right)