It was only a matter of time really. In an age of dining where gimmicks and pop up restaurants reign supreme, it's not really surprising that the latest one to appear in the nation's capital is going to be a restaurant where you can choose to dine either with or without clothes.
Featured Image VIA 
The place is called the Bunyadi (this means 'base' or 'natural' in Hindi) and it's starting a three month residency in London this summer.
The website states the following blurb and no other information:
Enter a secret Pangea-like world, free from phones, electric lights and even clothing (optional) and revisit the beginning where everything was fresh, free and unadulterated from the trappings of modern life.
The waiting list is already over 5000. Tickets are available on a first come first serve basis and you do actually have the choice of whether or not you want to eat your dinner naked. Changing rooms are provided if you do too so you don't have to worry about turning up in the buff in a trench coat either.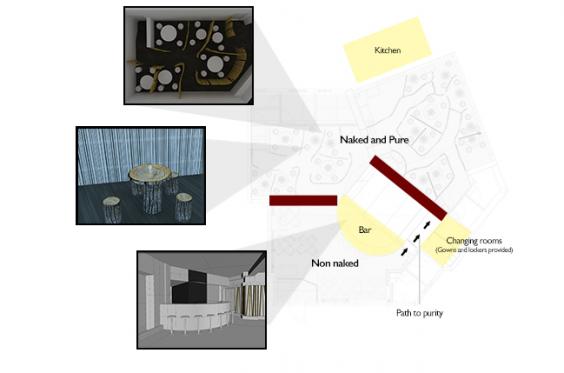 Founder Seb Lyall had the following to say about it:
The idea is to experience true liberation.
We have worked very hard to design a space where everything patrons interact with is bare and naked.

The use of natural bamboo partitions and candlelight has enabled to us to make the restaurant discreet, whilst adhering to the ethos behind it.

No doubt, this has been the most challenging project for us yet, which makes us very excited about it.
Great. I've always wondered how to experience true liberation and now I know. Go eat a meal in a restaurant in the buff, of course. I've already added my name to the waiting list.
It's a shame that they haven't really elaborated on what food they'll be serving other than that it's 'wood flame grilled' and that there's a vegan option (of course there is), but I suppose it's not really about the food any more when you're eating out, it's just all about the experience. And I'm sure this one will actually be something you'll never forget.
It'll probably be slightly different to this naked woman destroying a Subway in Alaska, but kinda on the same vibe.