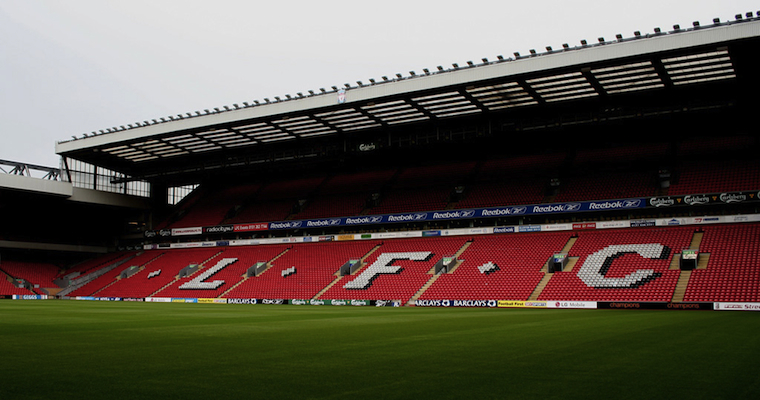 Wow. Would you look at that? I thought I couldn't see something grosser associated with Liverpool football club than this Liverpool shirt made out of condoms but it looks like I was completely wrong as Liverpool have (just in time for Xmas!!) released the 'Liverpool Stadium shirt' which is pretty much what you would expect it to be. Yeah, that's right, they've released a short sleeved button up shirt that is pretty much just a full sized version of Anfield on your shirt. On the front, and on the back. I have gotta ask myself who the hell would actually want to buy this? If you're a Liverpool fan you're just gonna buy a Liverpool shirt with Gerrard or Suarez on the back (all of their other players are shit so it's pretty much gotta be one of those two right?) or maybe at a push some kind of Liverpool t-shirt with 'you'll never walk alone' or 'toffees suck' or some other kind of phrase/tagline that's associated with Liverpool. I don't think anyone is actually going to want to buy a really horrible coloured shirt with a real shit picture of Anfield on the front and the same shit picture of Anfield on the back. Check out the picture below: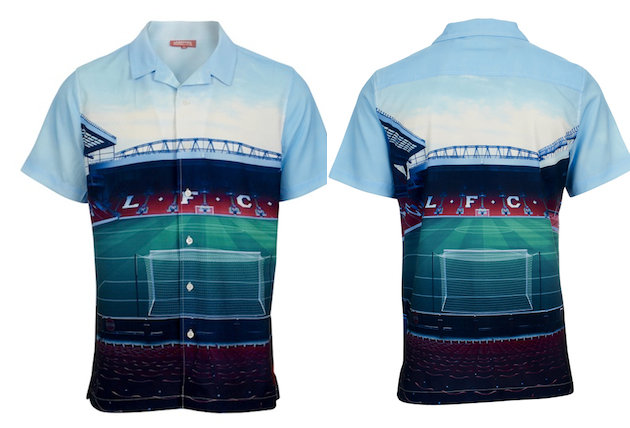 ☛ More: You Are Heskey's Bitch – Emile Heskey's Unbelievable Start To Life In Australia
Even if you really, really love Anfield I don't think that you would want to buy this, I mean surely you could just pick up a t-shirt that says 'This Is Anfield' or something because that would be at least 100 X better than this piece of crap? Maybe, just maybe if you were planning to dress up as a retarded Liverpool fan for Halloween you might CONSIDER buying this, but then if you had any sense you would probably allow it because it costs £40 and that's way too much for a shitty Halloween costume. I guess maybe Everton fans MIGHT hate Liverpool fans enough to actually do that and then maybe burn the shirt afterwards, but even that seems like a long shot.
Unbelievably though, on the Liverpool website the XXL and XS sizes of the shirt are both sold out. Granted, they probably only got a few in each of these sizes because they're the most unused sizes, but even so it's remarkable that they've actually managed to sell them? Of course, if I actually saw this shirt on someone I think it would probably be a really really fat fvck or a little kid, so maybe it's not that surprising. More likely though they probably just never even had those sizes but instead of listing them as unavailable they listed them as sold out to look a bit better.
It seems like Liverpool are becoming more and more of a caricature of themselves with stuff like 'Being Liverpool' (despite being really good it probably shouldn't exist) and their current brand of losing football, and the release of this shirt just seems to be the icing on the cake. Let's hope they sort everything out soon, or if, more realistically, you're enjoying their slow demise like most of the country then let's hope they can top this one soon.
☛ More: Football Sponsorship Video Nasties
☛ More: Goal Celebrations FX