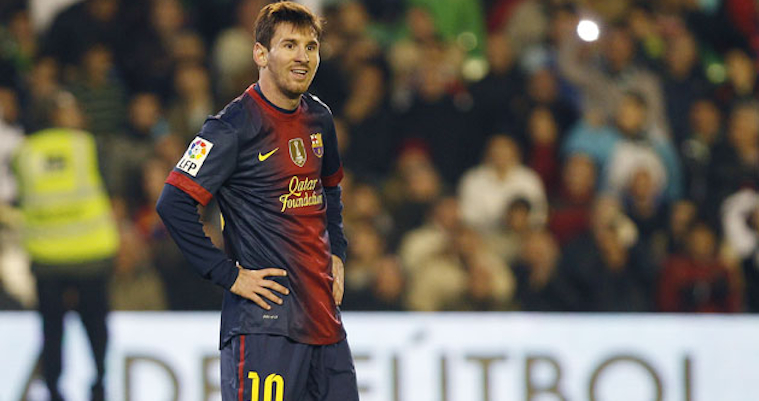 So yeah, if you're into football and on Sick Chirpse you probably heard that Lionel Messi broke Gerd Muller's record for the number of goals scored in a calendar year last weekend by notching his 86th of the year. 86 goals in a year. That's more than Carlton Cole has scored in his entire career. Messi was typically modest in his celebration of the feat, issuing the following statement:  'I have said many times, the record is nice but the important thing is the victory that keeps us on the patch we want to continue on, as I always say, my objectives are on a team level: to win the league, the Champions League and the Copa del Rey again.' What a guy huh? All that individual greatness but he only cares about the team. What a role model.
Here are some of his (pretty incredible) stats from this year that were taken from @Messistats:
Messi has now scored 2 goals in each of his 5 last Liga matches for Barcelona.
Messi is now Barcelona's all-time scorer in La Liga with 192 goals.
Messi needed 21 league games last season to reach 23 goals. It's taken him just 15 games this season.
Messi has now scored 15 goals in 8 away games this league season. His personal best is from 2009-10 (18 goals in 19 away games).
Messi in 2012 for Barcelona and Argentina: 5405 minutes of football, 86 goals (1 goal every 63 minutes).
So yeah, it seems as though he's not just got a little better this year/season, but A LOT better. What the hell is he gonna do next year? I know everyone bangs on about him not winning anything with Argentina but there's still time for that, and even if he doesn't win anything with them then I'm pretty sure nobody would be wrong in crowning him the greatest player of all time.
Enjoy his 86 goals  (so far!!!) from this year below and just think about what might happen next year (EDIT: Actually wrote this on Wednesday and the little guy got two goals on Wednesday night so he's actually got 88 now, but there isn't a video of all 88 yet. Cocky little shit) :
☛ More: Lionel Messi Is A Complete Don
☛ More: All Of Lionel Messi's 202 Goals For Barcelona (Up to Nov 2011) 
☛ More:  Maradonna Performs Forward Roll On The Touchline 
[yframe url='http://www.youtube.com/watch?v=vY6m8sOjenU']