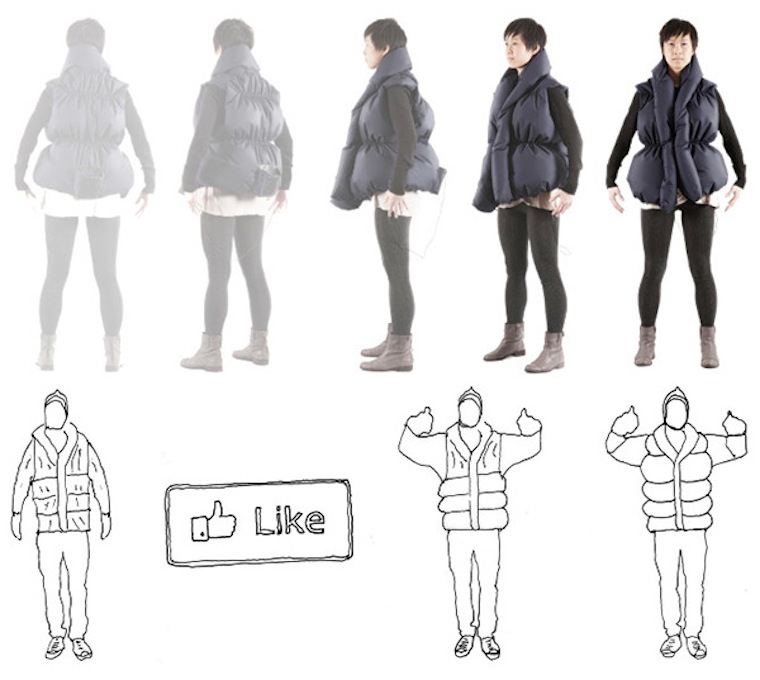 Are we really that alone in the world that we need an inflatable jacket to show us the love and affection that's missing from our lives?
The 'Like-a-Hug' (which I thought was a joke) is an invention that means 'liking' someone's status on Facebook sends signals to the wearer's vest which inflates to mimic the feeling of a hug. Fan-fvcking-tastic. Just what everyone needs.

Facebook like's could eventually be more satisfying than sex if all you want is a cuddle. What would have been a better invention though is making an inflatable for when you receive a Facebook 'poke'? In my female opinion, hugs are more obtainable than a poke these days. Who in their right mind would purchase let alone wear one of these anyway is beyond me, it's not like they look good in the slightest. Maybe that's why people don't want to hug you in the first place, because you are wearing a fvcking stupid jacket. I'm sure the designer, MIT student Melissa Chow had good intentions, but people in gilets look like pricks as it is thanks to Jack Wills, and the iPad holding T-Shirt was bad enough. I'd much rather have a normal hug thanks.

Design: 0/10
Purpose: 0/10
Aesthetics: 0/10
Durability: 0/10
Making you look like a fvcking twat: 10/10